I really appreciate all the comments and ideas that were left on my blog post where I admitted that I was feeling sort of "lost in WoW" lately. After a bit of thought and a slight break, I'm thinking a major part of my problem is a lack of focus. I feel stretched too thin between my main character and then two level 74 toons– if I'm playing one, I keep thinking "I should be playing one of my others" in the back of my mind. Which is weird because I don't really have any outside pressure to play any character in particular; I just feel bad when I can't give them equal attention.
To remedy this, I am going to pick one alt toon to focus on and really concentrate on getting to 80. I think having that as a concrete goal will certainly give me something to do over the next couple of weeks.
And guys… I'll need your help to pick.
/Announcer Voice On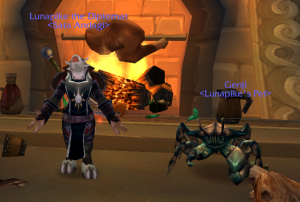 And in this corner we have… Lunapike the Diplomat, level 74 Tauren Hunter. She was Pike's second hunter to hit level 70 and is on the fast track to becoming her second level 80 hunter… and perhaps her second level 80, period! She resides on the RP-PvP server The Venture Co. (US) where she has resided since her mid-20s when she transferred there from a normal PvP server, and has a good half a level or so on our second contestant.
Strengths:
– Is a hunter, and Pike likes hunters. And playing another one would possibly give her more blog post ideas.
– Has tamed a Giant Enemy Crab which she named Genji
– Is the highest leveled Hordie of Pike's, and as such has the drive and motivation to get to 80 so she can start collecting badges and passing out heirloom items, not to mention get sexy gear
– As a Hordie, gets to see the other side of the Northrend storyline which Pike hasn't seen yet!
– Easier to quest with than the second contestant, in general
– Is a Female Tauren, the best playable model in game
– Pike is actually not allergic to cows
Weaknesses:
– Is dirt poor. Lacks epic flying and dual spec. (Not that dual spec is quite so important for a hunter, but ya know.)
– …is a hunter, and Pike already has one (or three, or four, or…).
– Is going to cause Pike to dissolve into fits of tears when she finds out dailies are a gankfest (sort of a repeat of what happened when she went to the Isle of Quel'danas with this character back in the day)
– Has a heck of a time getting into instances. Tends to get ganked by swarms of 80s at the meeting stone after finally finding a group (though she can take on most players of equal level).
– Has no "connections" to any raid groups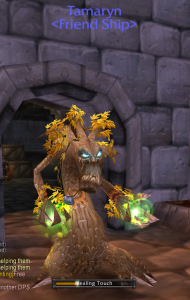 And in this corner we have… Tamaryn, the… Tree! Level 74 Night Elf Druid. Though much "younger" than Lunapike, she has quickly climbed up the levels and currently sits a mere half a level or so behind the tauren, ready to surpass her at a given notice. She lives on the RP server Silver Hand (US) alongside Pike's main, Tawyn.
Strengths:
– Is not a hunter and is thus an all new experience for Pike
– Has both Swift Flight Form and dual-spec thanks to Tawyn's obsession with the Argent Tournament
– In Boomkin form, outDPS's Lunapike, stupid Starfire crits (though to be fair, Lunapike is wearing a leveling spec whereas Tamaryn pretty much snatched something from Elitist Jerks)
– Is invited to instance groups within about thirty seconds
– Has the 10%-extra-XP shoulders
– Already has connections with various raid groups via Tawyn
– Is a Tree, the second best playable model in game
Weaknesses:
– May possibly cause Pike to start blogging about druidy things (on occasion!! Pike will still be playing her main.)
– Will be redo'ing a lot of leveling content Pike has already seen on Tawyn
– No real drive to get to 80 other than wanting to have a max-level healer alt since a.) Tawyn has already passed out heirloom items like candy on Hallow's End and b.) it's not like the way gear looks matters in tree form
– Pike has a deep-seated fear that if she gets a healer to level 80, she will never be allowed to play a hunter in a raid ever again
– Pike is allergic to trees
Who will win and become the part of Pike's Next Big Project, and who will have to sit on the sidelines and be the "Third" (possible bad Ender's Game joke not intended)?
ONLY YOU WILL DETERMINE THEIR FATE.
/Announcer voice off
Comment and vote today! *nod*
Note: Just to be clear, I really enjoy playing both of these characters and would be quite happy to level either. That's why I can't decide! >.>