So, you've reached level 50 with your hunter. Congratulations! One of my hunters just hit level 50 as well! His name is Althalor, and he's a very deliciously good looking Blood Elf who lives with Tauren. This is him: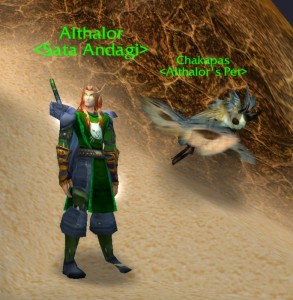 See, told you he was cute!
When you are level 50, you learn Steady Shot, and because this is a very important shot to all hunters, we're giving it its own special post. Hunter Kindergarten is in session!
History Lesson: Steady Shot was introduced in Burning Crusade and originally you got it at level 62. It had a relatively short cast time, and it had to be used at very specific intervals to avoid "clipping" your Auto Shots, which would gimp your DPS. To get around this, many people made a macro which automated this process. As for me, well, that completely defeated one of the biggest reasons I enjoyed hunters so much, so I always hand-wove my Steadies.
With Wrath of the Lich King, Steady Shot was overhauled entirely. It was removed from being linked with Auto Shot so you no longer had to worry about timing, although its cast-time was made slightly longer. Unfortunately this meant all Beast Masters had to do was spam Steady over and over, which was heinously boring to me just as using the macro was in Burning Crusade, and it almost had me switching specs.
Never fear, Blizz came along with a Steady Shot nerf and an Arcane Shot buff and here we are today!
Today's Steady Shot: Steady Shot, in and of itself, is not a very good shot, damage-wise. In fact, it's pretty bad. For a lot of hunters, it does less damage than Auto Shot.
I see you raising your hand there, ready to ask why we use it then. Simple: it's there to use when you can't use anything else. And remember, even a little extra damage is still extra damage.
Keep in mind that because Steady Shot does have a cast time, it cannot be used while moving, and in my experience, you will rarely use it in PvP.
How And When: In general, Steady Shot is for use when everything else is on cooldown. Beast Master and Survival Hunters in particular will find themselves using it more than a Marksmanship hunter would, because a Marksmanship hunter has a few more shots to use. You don't want to use it more than is necessary, though, because it typically does not do as much damage as any of your other shots. There are of course exceptions to the rule; for example, I know of Marksmanship hunters with very high amounts of Armor Penetration who are able to drop Arcane Shot from their rotation in favor of more Steadies, since Steadies are positively affected by Armor Penetration. For the most part, though, Steady Shot should be the lowest rung on the ladder. Basically, you always want to be doing some sort of special shot to fill in your Auto Shots, and since Steady has no cooldown, it fits the bill a lot of the time.
Glyph of Steady Shot is a very good glyph that many hunters tend to use, because pretty much all specs are using Serpent Sting now for various reasons and because a 10% boost to a shot that you are using so frequently is definitely not bad. Keep an eye out for it, and snag it when you can!
Warnings!: For a low level hunter who already has mana issues, Steady Shot is really going to exacerbate them. Some leveling hunters opt to forego using Steady Shot very much at these low levels to avoid this issue. Others, like me, JUST HAVE TO USE IT NO MATTER WHAT BECAUSE SHOT ROTATIONS ARE FUN AND SQUEE.
*cough*
You try it out for yourself and decide. >.>
Conclusion: Steady Shot has come a long way. It was designed to be a "filler shot", was inadvertently turned into our main shot, and has finally been tuned into actually being a filler shot. Don't treat him too badly, though; we may have broken up with him but he's still a decent friend when no one else is around.
…nice guys finish last, don't they…? *gently pats Steady Shot*