So I was in Icecrown, doing a couple dailies (my Mechanostrider obsession means I will get the Argent Tourney Mechanostriders as well), when I somehow wound up in a PuG for the new 25man. Trial of the Crusader? Dunno, all the names and modes throw me off.
The PuG was kind of a failure, although I now know more about killing Snobolds and giant Jormungar than I ever figured I would.
So anyway, I was trying to figure out a sneaky way to weasel out of the failure PuG when I got a whisper from my guild. "We're throwing together a 10-man Ulduar, want to come?"
…
…
/raid "Hey uh guys, thanks for the fun, I've got a guild raid now." *poofs*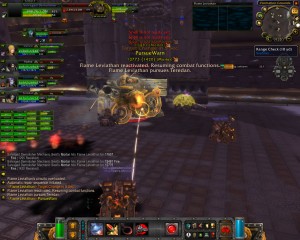 So this… okay. Basically I just spammed 1 and 2 and occasionally spent more time than I probably should've trying to figure out how to pick little blue glowy buckets off of the ground. I was basically informed to just shoot stuff while sitting passenger in this tank thing. It gave me Halo vibes. You know, sitting in the back of the Warthog? That was fun…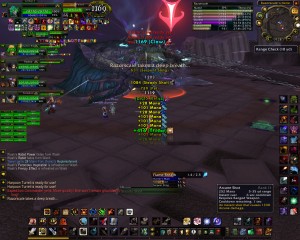 This fight, I ran around like a chicken with my head cut off, shooting the dragon thing when it landed. I think there was fire and stuff but I couldn't see it half the time (My Windows version of WoW likes to conveniently not show important things like buildings and fire and void zones.)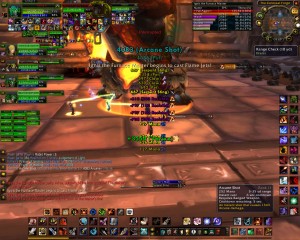 This fight… hmm. I think I just stood there and shot him. There were other people doing a bunch of running around but I just sort of… yeah, stood there. OH, I totally got an Achievement without even trying, cause the guy picked me up or something.
I'm also pretty sure this is the boss that yielded a sexy new polearm that a paladin won the roll on, but he gave it to me because MY GUILD IS WAY TOO NICE TO ME DARNIT.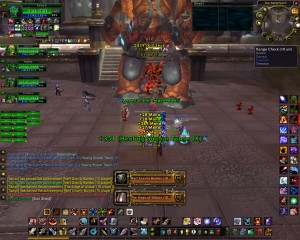 This guy was really annoying, and I'll tell you why. It's cause every so often he'd pull a Curator and stop attacking and his "heart" would show up and you'd have to DPS it, but guess what… your pet refuses to attack it.
Other than that, it was Grobbulus 2.0. Get the debuff, run away, then come back.
I think he and Patchwerk would get along well. "OOOH I WANT TO PLAY WITH MY TOYS!" "PATCHWERK WANT TO PLAY TOO!"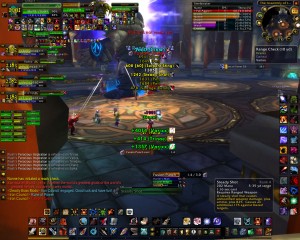 Oh right, this guy. There were three guys and they all took forever to kill. And the last guy would every so often turn into Doctor Octopus and walk around the room on these electric spider legs. There was stuff that you weren't supposed to stand in, and stuff that you were. That's about it >.>
Oh wait, he also did a Falcon Punch every so often. Actually I don't think that's what it's really called, but that's what I called it. *nods*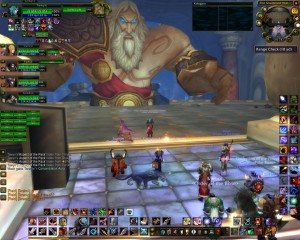 "Tawyn! Walk across the line!" said my guild.
So I did. Big huge scary guy popped up. Like from a pop-up book.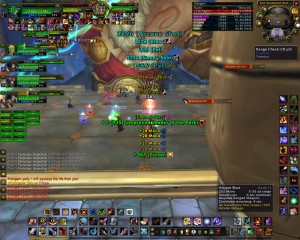 So this is another one that reminded me of Curator, in that you stuck your pet on the main guy while you shot other stuff. Every so often he'd do a laser eye beam thing like in Old Kingdom and Halls of Stone. Freakin' scary when it happens, I would high-tail it to the other end of the room. XD
At the end of that fight everyone said "Tawyn wins!" and I was like "Buh-wuh? What did I win?" and my guildies said "On Recount, duh!" So I pulled it out and I had! I was happy to see that even though I had no freakin' clue what was going on, I was still pulling my weight.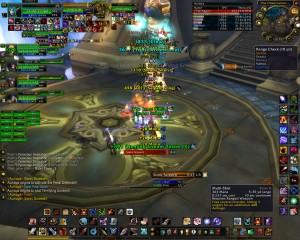 This chick had a bunch of kittycat adds. Of course, the very first thing I did when we pulled was Beast Lore to see if they were tameable. …what? >.> They weren't. They're level ?? anyway.
I don't really remember the details on this boss much. Honestly what I remember more was the pull riiiiight before it which was a cross between Romeo and Juliette and Curator (again). That pull was crazy.
At this point I informed my guild that I was turning into an all tuckered out lil' hunter, having done such a crazy Raid Boss Tour, but they informed me that they were stopping for the night anyway. I think they may go back to finish tomorrow; I'm not sure if I'll go or not because Yours Truly is having the BlizzCon Live Stream beamed into her computer. (Confession: I ordered it almost exclusively for the Murloc Marine minipet.)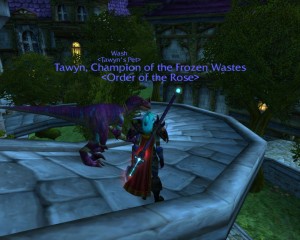 A month ago I was dinking around feeling like I'd hit a glass ceiling as far as my ability to see content was concerned, and now here I am: Champion of the Frozen Wastes, wearing a polearm from ten-man Ulduar, and slated to go to the 25-man counterpart on Saturday. I'm really starting to feel like a raider. It is… a very odd feeling.
I also feel like… you know in the Matrix when they upload stuff into Neo's brain and he goes "Whoa… I know Kung Fu!"
That's how I felt today after getting about a dozen new boss strats crammed into my head… x__x
*curls up in a ball and falls asleep*