Guys. I have a confession.
You know all the new badge gear? The stuff that is really really good? The stuff that is a godsend and is gonna let me catch up to my guildies in Ulduar?
Yeah, I don't have any of it yet.
Because none of it has a story behind it the way the stuff I'm wearing right now does. The stuff I'm wearing right now is mostly from Naxx10, with a sprinkling of stuff from Naxx25, and dropped from raid bosses, some of whom took weeks to see, and when I wore it, I wore it very proudly.
I am having a really hard time convincing myself to replace it with stuff that is being held in sterile confinement in Dalaran and that I earned by doing "chain Heroics". I feel like there would be no soul in said gear.
"Soul? You've lost it, Pike."
Yeah, perhaps I have. That's why I put the word "insane" in the title of the post. =P
This issue plagued me before; in Burning Crusade when they introduced all the stuff with the Shattered Sun dailies and Sunwell, remember? Suddenly there was all this gear that you could get with badges that far out-stripped my Karazhan stuff. I waffled on this new gear for a while, too, for the same reason. It had no soul. But eventually I caved and bought it all, topping it off with that infamous "Chocobow", Crossbow of Relentless Strikes.
But when I got my Figureprint it was with the gear that all had stories behind it… Wolfslayer Sniper Rifle being the crowning piece. Aside from just looking better, it simply meant more to me than the badge bow did.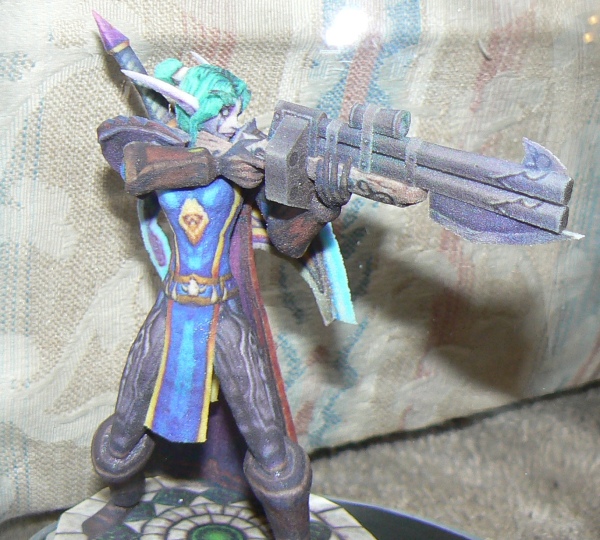 At some point before Ulduar25 this weekend, I'll bite the bullet and snag some badge epics. And in the end, I'm glad they are there, because otherwise I'd just end up embarrassing myself in my new guild. And I don't really have any moral problem with the way "welfare epics" are implemented.
But gosh if there isn't gonna be a tear in my eye as one by one, all the names of raid bosses that you currently see when mousing over my items turns on Armory turn into simply "Vendor". =/
Maybe I'll get something from Ulduar to make up for it…
(Closing Note: I know this is a touchy subject for some people, and as such I feel driven to add a quick reminder that while discussion in the comments would be quite encouraged, be sure to play nice. <3)