I don't know if I will ever quite forget that first odd feeling, nor can I still really compare it to anything else.
Lemme explain what I'm talking about.
There I was, level ten, on the trial version of WoW. I had little clue what I was doing. I was merrily questing in Elwynn Forest since a friend dragged me there from Teldrassil at the tender level of six. I'd kept my hearthstone set to Teldrassil in case I ever needed to return there in an emergency, because I knew I'd never figure out how to get back otherwise. So there I was, questing away and picking flowers because I trained in herbalism specifically to give my boyfriend a Peacebloom. (Yes, that is the honest-to-gosh reason behind what is still one of my professions.)
So there I was going around Raptor Striking things and having a grand ol' time when suddenly I hit level ten and was informed by the hunter trainer that I was to return to NightElfLand to get my pet.
I was scared to death that if I went back there, I'd never be able to find my way back, but I really wanted a pet, so I took a last look around at Elwynn Forest and then used my Hearthstone.
Several hours later, having spent hours doing the pet quests and scouring the archives of the first WoW site I ever visited– Petopia— before settling on taming an owl, Tux and I were ready to head back. There we went, taking the boat and schlogging through the Wetlands and finally ending up in Thelsamar where I (finally) remembered about this strange concept called "Flight Points" and proceeded to fly back to Stormwind.
That feeling of flying over the waterfall from Burning Steppes into Elwynn is what I haven't forgotten. It was a feeling of relief, but more than that– it was homecoming. I was very struck by this odd feeling. No video game yet had given me a similar feeling, and I'd played hundreds of them. Some of them I had loved dearly and felt very immersed in. But none of them made me feel like I was coming home when I entered a zone. This one did.
That's when I knew that I wouldn't just be playing the free trial.
That's also when Tawyn's character really started to materialize and when I knew I'd be happy on my RP server, despite my initial misgivings. Tawyn who felt more at home among the humans than among her own people. Tawyn who was good friends with the inhabitants of the dwarven district, who prefers guns to bows and who has never in her life owned a saber mount because she has always ridden horses (or mechanostriders, or polar bears… but mostly horses, I promise) instead.
And as soon as my gryphon landed– that's also when I set my hearthstone to Stormwind.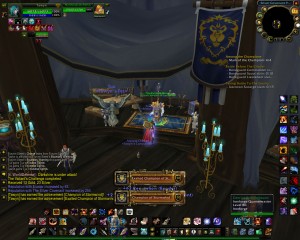 So this was a long time coming. Two years, in fact. Since long before the title even existed. My inner RP geek is satisfied.