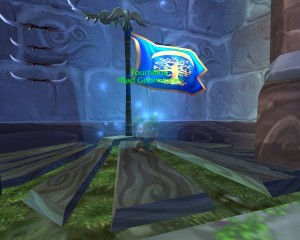 My rogue was about halfway through level 18 this morning, so I decided to do some Warsong Gulch. The first game was kind of a failure; we lost pretty badly. I was sort of preparing for this to be one of "those mornings" where it was just a string of losses and crying.
But then something interesting happened.
We started communicating.
See, there was a pretty solid group of about six or seven of us who kept re-queue'ing over and over. We didn't always get into the same games, of course, but we'd always be there with at least a few buddies from the previous game or two games ago or whatever. A couple of us were pretty twinked out but there were a lot of your average lowbies in our little re-queue'ing group as well.
Anyways, pretty soon we'd figured out what everyone's strengths and weaknesses were, and we were making and executing plans. We knew who our best flag-runners were, who was best on defense, and who made the best distractions. There was no QQ, no whining, no crying if somebody messed up. Just a lot of "gj"'s when we made yet another flag capture.
Game after game we just dominated. 3-0, 3-0, 3-0. Anytime we queued up and saw a friend we could rely on from a previous game we would say hi and /cheer at each other. Even the people from the Super Hardcore PvP Servers were /cheering and /waving. And every game our motley little group just smashed the Horde. It was, quite honestly, the best PvP I have participated in in a very, very long time.
But all good things come to an end, and pretty soon came that fateful game where I announced at the beginning that it would be my last: I was gonna level out of the bracket. The response was a few "Noooo"s in BG chat which made me feel kinda warm and fuzzy.
Perhaps fittingly, this was our hardest game of the morning: the Horde had some pretty geared folks on their end this time, including a rogue who was basically equal to me in gear and who I locked one-on-one horns with several times. But we managed to eke out a victory in the end– with a flag I captured.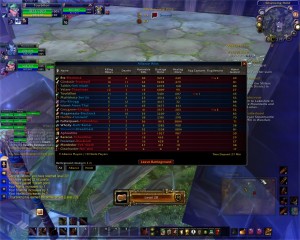 Thanks, BG9, for making WSG surprisingly awesome again for one morning. I hope to see you all in Arathi Basin! <3