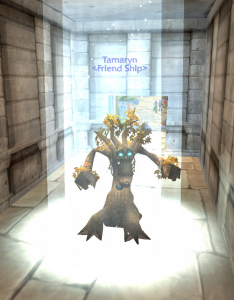 I've been sort of thinking a lot this morning about an interesting trend I've noticed; namely, the tendency of hunters to roll healer alts. I see it quite a bit on blogs; Gun Lovin' Dwarf Chick has recently realized she is more of a Heals Lovin' Draenei Chick and has decided to move fulltime to the Twisted Nether Blogcast, and just recently the Kitty Collector has become Addicted to Heals. These are just a few of the recent examples. Then I thought about how my little treedruid, made on a whim several months ago, seemingly running through the forests of Teldrassil only yesterday, is suddenly in Northrend, busily healing Utgarde Keep runs. Then, in typical Pike fashion, I started wondering why. Why are we hunters– often die-hard hunters, to greater or lesser degrees– drawn to healing?
First, I think it sort of stems from a desire to be useful. Us hunters are used to sitting in LFG for hours while people sit there spamming "need heals and tank and g2g". To be fair, things seemed to have gotten a little better for us in WotLK, at least on my server (I've seen more than a few pleas for ranged DPS or even hunters in specific), but there's still that deep-seated longing among many of us to play a class role that is in more demand.
That brings us to the next question though; why healing and not tanking?
These are my theories:
1.) It's not melee. We're hunters. We pride ourselves on staying as far away from the enemy as possible. My two-handed axe skill sat at 349/350 for months after I'd gotten Legacy out of Karazhan… and I was proud of it. Tanking involves going up to something and letting it hit you in the face. For many of us, especially those of us who started out in this game as a hunter, it's uncomfortable and counter-intuitive. Healing is a lot more attractive in that regard.
2.) Buffs. I dunno about you guys but I was always really, really sad that I couldn't really buff anyone as a hunter. Well, I could through things like Ferocious Inspiration, but I couldn't run around Stormwind and buff people. So it's no surprise that I'm super-buff happy on my druid. Sometimes before I log out I run around and buff as many people as I can with Mark of the Wild until my mana is nearly empty. I am always careful to buff hunter pets, and I always make sure that the pet has Thorns, and not the hunter (because come on, the pet is going to be the one getting hit!) I think all the times my pet has failed to received bufflove has really ingrained that one into me. So long as I am nearby, your pet is gettin' buffed.
Now paladin and druid tanks can buff too, of course, but toss priests and Fortitude into the fray and heals have got an advantage here.
3.) …no, really, Mend Pet isn't enough sometimes. Improved Mend Pet is a talent I couldn't live without 2/2 in. In fact, remember how I leveled Marksman and switched to Beast Mastery around level 58 or so? IMP was one of the major reasons I stayed. I'm serious. I am super OCD about cleansing debuffs from my pet. Super OCD. Mend Pet was the first skill I actually started using a keybinding for, and while I now have keybinds for a good chunk of my abilities, alt+2 will always remain dear to my heart. And seriously, how many of you are as anal-retentive about Mend Pet as I am? I'm sure a good chunk of you are. How many of you draenei have a Mend Pet/Gift of the Naaru emergency macro? How many of you have been in a raid or instance, noticed that your target's target's health was dropping low, and instinctively spammed Mend Pet before remembering that, um, the tank is tanking, and not your pet? I know I'm guilty of that one rather frequently.
I'm sure several of us have been in those situations where we think "Ugh if only I'd had a little more heals." I wonder if that perhaps influenced our healy-alt-tendencies at all.
4. Survival. Hunters are about survival. And not just the ones spec'd into it. All hunters, from a lore standpoint, are beast masters, marksmen, and survivalists. That's why you have tabs for all three when you open up your spellbook. Your spec just determines which one your hunter sort of specializes in– hence the word "spec". Hunters of all specs are about pulling all the stops to stay alive when the outlook is grim. Makes sense that some of us would want to expand a little and try our hand at being responsible for more than just our own survival.
So, those are my theories on why we see so many hunters-gone-heals– whether they're a new main, or just a minor diversion like mine– running around.
…though I'd love to hear from the devil's advocate hunters out there who hate healing and rolled tanks, or more DPS… or no alts at all…