When I posted a picture of my servers on my last post, I got a lot of comments about how I have a lot of toons. This is something that really hadn't occurred to me because it doesn't feel like I have that many characters, because I don't actively play many of them. Observe: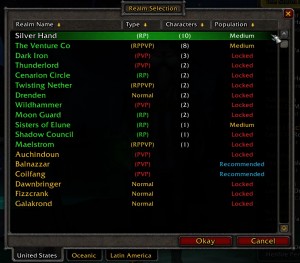 Silver Hand (10) – I have ten characters on this server, and only five that I ever log into. One is Tawyn, one is Tamaryn, one is my bank alt, one is my mote bank alt, and one is my Death Knight. Characters posted in order of frequency that I log into them (my poor DK is neglected these days). Those other five characters… I have a hard time remembering who they are, much less logging into them >.>
The Venture Co. (8) – I have eight characters on this server. Now actually, this server sort of ends up being my "experimental alts" server so I think overall I'm more active with alts on this one than on Silver Hand. Not all eight of them, though, there are a couple characters here who I rarely touch, and Lunapike and Althalor (both hunters) and Songlark (my other resto druid… what? >.>) are the only ones above level 20.
Dark Iron (3) – This is the server that a lot of my family and IRL friends play on. So I've had characters on there almost from the beginning. Here's the thing: it's not an RP server. As such, I have a heck of a hard time playing there. It's not even that I "miss" the RP, because I don't do a lot of RP myself. It's that the whole atmosphere just feels different in a way I can't get used to =(
Regardless, I have a level 16 blood elf paladin on this server who I haven't touched in over a year. I also have two hunters who are levels… I dunno, 9 and 12 respectively, I think. Who also haven't been touched in over a year. They're still sitting there out of… well I'm not sure why they're still there. I have already informed aforementioned friends and family that if I ever decide to go play with them it will probably be through transferring Lunapike over, so maybe it's finally time to release these characters into the nether.
Thunderlord (2) – I have a couple of sub-10 characters here. They haven't been touched in months. More family members play on this server, but sadly it suffers from NonRPitis like Dark Iron does and I can't get into it. Next!
Cenarion Circle (2) – This one is actually interesting, the two characters here are level 1. One is from some random BRK event a long time ago and one is a replica of Tawyn when I wanted to try my hand at machinima. Decided I failed at machinima and haven't touched the character since. Not sure why these characters are still around actually >.>
Twisting Nether (2) – Ah yes, this server. My boyfriend and I have been casually leveling two gnome mages together. We got busy and haven't logged in for a few months. We should probably do that again. >.> The second character on the server is a level 2 hunter who I never play.
Drenden (2) – I have a level 2 blood elf hunter here who now that I think about it should probably be deleted, and a level 12-ish dwarf hunter who… I need to log into more. Forgive me, Ratshag and BRK! /grovels
Wildhammer (2) – This server has a bit of a story behind it– the same friend that got me and my boyfriend playing WoW on the first place (and stuck us both on Silver Hand, actually), also had Horde characters on this server, and a really fun guild. So, one of the first characters I made in all of WoW was a troll warrior named Lunakuti, partially because it sounded trollie, and partially because my character had tusks like Luna from Dominic Deegan. Then I realized that I missed behing a hunter. A lot. A lot a lot. So I rolled a new character, named Lunapike, as an homage to my first failed attempt on this server. I liked Lunapike a lot and played her until level 22 or 23 or so, at which point the guild sort of imploded and I diagnosed the server with having an acute case of the dreaded NoRP Flu, so I transferred to The Venture Co. The rest is history =P
That aforementioned troll warrior and a random troll priest are still on that server, having not been touched in over a year. I find it hard to delete the warrior, if only because she wound up being the roundabout inspiration for Lunapike. I'm kind of a sap.
Moon Guard (2) – This is supposedly the world's biggest RP mecca and I wanted to check it out, so I have an Alliance and Horde character here. Now maybe it's because the characters are low level or maybe because I was checking out the wrong spots (Thunder Bluff is understandable but Stormwind? And I had to walk through freaking Goldshire to get there?), but I didn't see any of this mythical RP going on. Sometimes I think I should go back and take a second look but the server is always locked these days, so…
Sisters of Elune (1) – This is the server where my boyfriend and I were doing our Grand Switcheroo project– he rolled a hunter and I rolled a warlock. They're both sitting at level 10, and have been for quite some time. I feel really bad, but… I have such a hard time getting into warlocks. I try so hard, too. For my latest attempt, I decided to make a "hot blood elf guy 'lock" (my term /cough) and it sort of is helping a little. Why yes, I am kind of a sad person. =P
Shadow Council (1) – I have a level 18ish troll Survival hunter on this realm who I play once every month or so because Shadow Council has this weird tendency to be the only server up when all my other ones are down. If that keeps up this character might actually be a decent level someday. o.O
Maelstrom (1) – I sat down and said "I AM GOING TO LEVEL A DRAENEI PAST LEVEL 10 FOR ONCE" and the result is a lonely level 6 draenei hunter on this random server. As you can see that little project isn't progressing very well, but maybe someday?
And that's that. I've deleted several through the ages too, but now that I look at it, I may have to go through and make yet another clean sweep. I mean, it's a new year, Spring Cleaning and all, right? Though I always feel a little bad about deleting characters. Am I the only one who's a character packrat? =P
In other news, I feel obligated to inform you all that my WoW subscription expired yesterday and I am not going to resubscribe right away. Not out of lack of interest in the game at all, no, but because I have a lot of stuff going on in the Real World right now that requires my attention (and money) and I want to make sure I have that all cleared up before jumping into the Warcraft World again. I don't anticipate the game downtime being that long and I'm pretty sure I'll still be blogging, so don't panic! I just wanted to update you all on the situation. *nods*