I have a confession to make, mainly, I haven't done a whole lot on either of my 80s since the patch hit. Oh, I've played around, gotten some badges, probably enough to buy something actually, but I'm not sure what I want to buy yet so I'm holding out.
Still, I am very pleased with this patch overall. The other day I was hitting close to 3500 DPS in a Heroic, as Beast Mastery, with Gift of the Wild as my only buff, and that was before I realized that my pet's focus dump move, Claw, had turned itself off. Which, FYI, is a huge DPS loss in and of itself, so the fact that I was doing so well without it made me very happy. (Don't worry, I did promptly turn it back on >.>)
I also hit an end result of over 3900 DPS on Emalon in VoA, third on Recount behind only a mage, and a Marksman hunter who out-geared me to heck and back. Also I was getting about 2 frames per second, as is what happens to me in 25mans. I wonder if Claw was on that time or not. *stretches lazily*
Other than that though, I have just been playing around and having a blast. Lunapike is in that final stretch before 80 and I'm looking forward to being able to say I have two max-level hunters again, followed by going to work on a third.
Yesterday the boyfriend and I got to talking about old instances. Now the boyfriend has opted to go on extended WoW hiatus, for a variety of reasons; his account is not currently active. However, we both have this fanatical love for old, rambly, looooooong instances like BRD. And he said he thought he knew how to go from the entrance of BRD all the way to the last boss by memory, without looking. So I said "Oh really?" in a bit of an owlish tone; he said "Yeah really," and we opted to test this by having him navigate BRD for me solely through voice chat. I decided to take my druid because of Stealth and Starfall, and ya know what… the boyfriend is good.
Also this sent me into fits of laughter: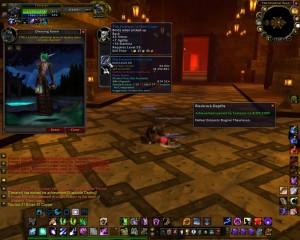 It made me kind of want to run around and do old instances all day long.
But yeah, now that my addons are (mostly) fixed, I <3 this patch dearly! Oh, did I mention that my new guild is way too nice to me? First, they are inviting me to basically every raid ever. Secondly, upon informing them that I typically cannot make their raids because of my schedule, a couple of them hinted around at trying to set up a raid specifically tailored to a time that I can make it. Thirdly, they sent me Slime Stream Bands in the mail.
The warm fuzzies… they overwhelm me *sniff* x_x