Are you a big turbonerdy nostalgia nut like me?  Miss the good ol' dungeons of TBC and WotLK?
HAS BLIZZARD GOT A PRESENT FOR YOU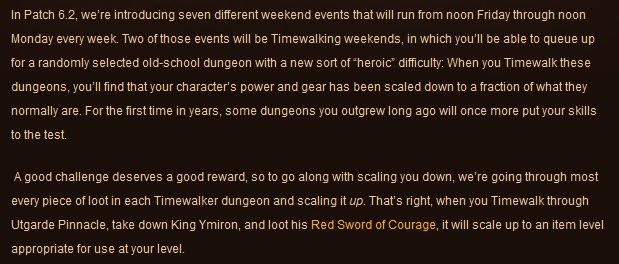 LOOK AT THIS
DO YOU GUYS SEE THIS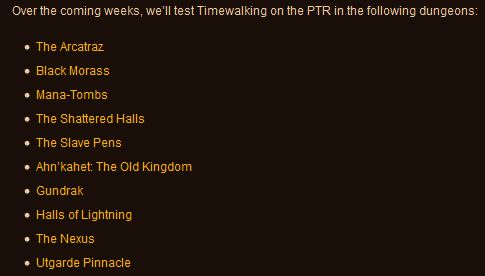 look at this list
LOOK AT THIS GORRAM LIST
NOW YOU CAN GO BACK AND DO THEM ALL WITHOUT NEEDING AN ALT
Ahem.  Sorry.  Got a little excited there for a minute.
To be fair this entire system isn't without what I think could possibly be issues:
First of all, apparently this system only exists during "holiday weekends", like the old Call to Arms PvP quests.  Why?  I don't know.  Maybe because they want it to be a special thing?  Either way I want my retro dungeons ALL THE TIME, Blizz!
Second, I hope the above list isn't ALL the dungeons we're getting.  Basically all of my favorite retro dungeons are missing.  Chief among these are:
Mech
Underbog
Ramparts
Sethekk
Shadow Labs (yes I went there)
Violet Hold
Drak'theron
Utgarde Keep
Culling of Strat
So yeah.  Don't stop with the ones you're testing, Blizzard!
Thirdly, I hope they don't just scale down gear and leave it at that.  Due to the many and often very drastic class mechanics changes that have occurred since TBC and WotLK, I feel like doing that would still overpower most of these instances at level.  Tune them to how they were when they were Heroics, Blizz.  Yes, even Shadow Labs.
But yeah, other than that?