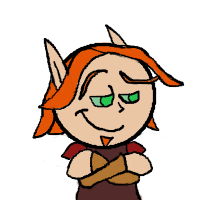 Althalor only wishes that he could be this smugface in real life.  In reality he'd rather not deal with most people.  All he really wanted was to stay home and hide with lynx cubs and dragonhawk hatchlings.  Unfortunately extenuating circumstances made that prospect rather unlikely.  Thanks Arthas.
Actually probably what happened is that he was giving his squirrel Nuts an "I told you so" look during a pet battle, at which point Nuts turned around and lobbed an acorn at his head.  (This has actually happened in game.)
Anyways, yes.  A smugface.  Heh.