Can you hear me in the back?
/waves
Okay!
So folks, here's the deal. The Boy wants to play alts with me and bought me a game card to prove it. As such, as of a few days ago, I am back in WoW. I do not know for how long. I do know that I want to be Super Casual– I still have too much to focus on outside of game not to be. I have no real plans to raid right now or really do anything outside of leveling alts with The Boy as an occasional social activity. (And dink around in Wintergrasp, which I have never done before, but is far more fun than I expected.)
As such, I have not yet determined whether or not I'm going to return to updating this blog. I am having tons of fun over at my new blog, as the freedom to write about whatever-strikes-my-fancy is exhilarating. If I do eventually choose to rez this blog, I imagine it will really only be for the rare occasional Really Hilarious PuG Story or something. I don't think I have it in me to write much in the way of hunter guides when all I'm doing in game is leveling my warlock and feral druid, or getting the vehicles as soon as I possibly can in Wintergrasp *cough*
Nah, just wanted to give you all a headsup because I figured it was only a matter of time before somebody realized that my Armory profiles were suddenly mysteriously being updated again.
As a parting gift for reading, have a Lady ChuChu!: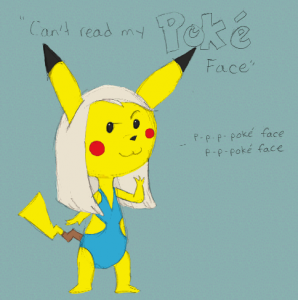 <3 you guys! -Pike