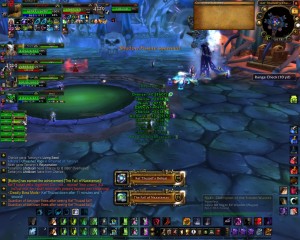 The fact that we got this far, as a PuG, and on my first trip in there on my druid– and as one of just two healers for a good bulk of it, still hasn't quite sunk in yet. Furthermore, that last Kel'Thuzad fight was one of the smoothest things I've ever seen, me half-asleep and yet somehow still feeling "in the zone" and Rejuv+Swiftmending those iceblocks… it felt amazing. I'm so glad I FRAPS'd it. I can't wait to make a movie; "The Day Pike Played a Druid And Was Actually Good At It".
…did I mention I got the [Safety Dance] achievement today too? Irony. Both my level 80s have it now o_o
Lemme tell you though, healing Naxx is nuts. It's all improvisation. I am completely tuckered out.
Right after that was over, I hopped over to Tawyn, and was soon chucked a guild invite from the guild I was accepted to. Check it out, it lines up with my title + name and everything: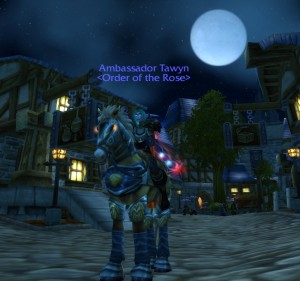 The second I joined I was met with several very friendly "hellos" and "welcomes" and lots of jovial banter. I felt almost bowled over with the niceness.
Also, I got a whisper from the guy who invited me. "Wanna come to our alt-run of 10-man Ulduar?"
I told him I had to go to bed because it was super late.
Bed is more important, right?
I can go to Ulduar later, right?
…riiiiiiiight? >.>
*twitches excitedly*