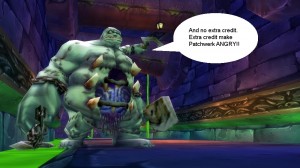 Well, I did it. Got into Naxxramas as Survival. Unfortunately it was a 10man and not a 25man, and furthermore… the raid was kind of a giant failure. Yay PuGs, right?
It had one thing going for it though. The raid decided to do Patchwerk first. So that's what I did. (And all I did in Naxx, actually.)
I felt really in the zone. I had super rhythmic music playing in the background, I was firing my shots in the correct order, my latency was low, my FPS was high, I was watching Quartz like a hawk and hitting my buttons and hotkeys the split second I was able to. Perezvon was Furious Howl'ing up a storm and I felt like I had finally nailed Survival and that there was absolutely no way in heck I wouldn't beat my previous 10man Patchwerk high score.
So when it was all said and done and all the dust settled down I whipped out Recount…
I was a thousand DPS higher than second place.*
…I was 400 DPS lower than what I usually do as BM. (3333 as SV compared to 3700ish on most of my BM attempts. My personal high score on 10man Patchwerk is 3980, as Beast Master.)
/tilts head to one side and scratches scalp
And so I leave it at that. See, I am going to be working evenings the rest of the weekend so my chances of getting into another raid before I continue with the project and move on to Marksmanship are slim.
The verdict? Well, to be honest with you guys I am convinced I was using the right glyphs, spec, and rotation. And that screenshot I posted in my last post was a bad example; normally my pet is only doing about 15% of my damage, he was doing an unusually high amount in that last screenshot due to the mechanics of the fight, but I know I was pulling my weight this time.
So why did I not see this big DPS increase? Why did I wind up failing the Patchwerk test?
My guess is that it's a gear issue. The vast majority of my gems are +hit gems, and I couldn't exactly afford to lose those so I couldn't re-gem to Agi. On top of that, I am puttering around in a mixture of Heroics blues, Naxx10 stuff, and a couple of Naxx25 and badge lewts. My guess is that at a lower gear level (like mine), BM simply scales… better.
And honestly I can't help but think the fact that the Beast Mastery playstyle feels like it's simply a natural extension of myself helps too… =P
Survival was an interesting experience, to say the least. I have gone from absolutely and utterly disliking the playstyle at the beginning of the week, to a sort of jovial handshakey acquaintanceship. I can appreciate the complexities of the shot rotation (even if staring at Quartz and my action bars made me feel horrifically claustrophobic) and the big Explosive Shot crits were pretty fun to watch– when I could see them out of the corner of my eye while staring at the action bars, anyway.
…but it wasn't quite "home". I have heard it said that playing a hunter spec is just pressing buttons in a different order… we will have to agree to disagree on that one. *nods*
—
* The second-place contestant was a very good Death Knight friend of mine who is normally neck-and-neck with me in the DPS department. He later expressed his befuddlement to me at how very poor his DPS was that round, and I'm starting to wonder if the group makeup was just horrible somehow and if that had something to do with my own performance. Guess I'll never know, though. Not having a stable raid group sort of made it rather difficult to do a decent analysis of specs, really.