I'm playing a game with myself. It's called, "Pike is actually going to learn to play the other two hunter specs".
Yes that's right. Don't panic. See, I'm sure we all know by now that I've been primarily a Beast Master hunter up until this point. This is so largely for two reasons; firstly, it really is my favorite hunter spec (don't get me wrong), and secondly, well… this seems to have unofficially become a BM hunter site and I figured you guys would appreciate it. /blush
However, that doesn't mean I don't enjoy the other specs or secretly long to learn to play them well. I mean, seriously, anytime I've ever spec'd SV or MM recently has resulted in a DPS loss, which simply isn't logical and means I am playing them incorrectly. So I figured… now's as good a time as any to figure them out!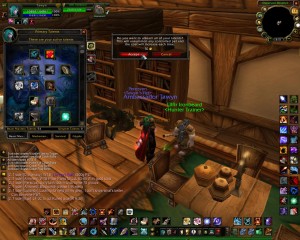 The Rules:
1.) Must play one spec for one week. No temporary respecs or spec-swapping allowed.
2.) With said spec, must do at some dailies, a few heroics, and at least one raid (preferably a Naxx clear, but something like OS or VoA will work if necessary) and report back to the blog.
3.) Must not talk about Fight Club
4.) No matter how much he begs, never, ever feed your pet after midnight.
Okay, so the last two rules are a joke, but ya know.
Anyways, with said rules in place, I swapped over to Survival (figured I'd start with it since it's my dual spec so I'm already glyphed for it) and headed off to the Argent Tournament.
The first thing I noticed was that I pulled aggro on Chillmaw within about half a second and Feign Death failed to work so I wound up Deterrence tanking him. 1200 dps on that fight. Oh yeah, off to a dandy start. /cough (Oh, and how the two Death Knights in the group failed to grab aggro from me throughout the entire fight… I will never know.)
The second thing I noticed was that when fighting the Scourge mobs for that one "kill 15 Scourge" daily, it was impossible for my pet to hold aggro beyond more than a second.
The third thing I noticed was that Misdirection extended one second of pet aggro to about two seconds of pet aggro.
The fourth thing I noticed was that Growl was off and Cower was on. Derp. Swapped those around.
The fifth thing I noticed was that with Growl safely on, my pet still couldn't hold aggro more than a second or two without Misdirection.
The sixth thing I noticed was that mana issues while solo'ing were pretty much gone.
The seventh thing I noticed was that my traps were always on cooldown when I wanted to use them (Black Arrow's fault).
The eighth thing I noticed was that it was near-impossible to do a proper Survival rotation on random level 79 non-elite mobs, because they were all dead after an Explosive and a Steady or two. Eventually I just abandoned using Serpent Sting and Black Arrow entirely because I didn't need 'em. And lastly,
The ninth thing I noticed was how empty I felt when I realized that suddenly, I was just another Survival hunter with a wolf in a sea of Survival hunters with wolves. Now you're probably thinking "Pike, you dork, you were totally a BM hunter with a cat and then a BM hunter with a windserpent in Burning Crusade." And it's true… I was. But somehow it feels different now and I'm not sure why. Perhaps it's because I differentiated myself back then by refusing to use the Steady Shot macro so I still felt fundamentally unique. Back then, I got my kicks from out-DPSing macro-using hunters with my manual rotation in the same way that today I get my kicks from out-DPSing cookie-cutter specs. Or, perhaps it's because I was naive back then and automatically assumed that everyone was having as much fun with Beast Mastery as I was. I dunno exactly, but whatever the reason, being like everyone else bugs me now in a way it didn't before.
Anyways, I am now bound into using Survival until next Sunday evening, though, so we'll see how things go. I am actually very excited for this project and looking forward to getting a nice glimpse into other worlds of hunteryness! ^_^