I'm pretty sure we're all clear on the fact that I enjoy rolling hunters. I can't help it. It's relaxing. It's nostalgic.
Alongside this, it means I have tamed a lot of pets in my WoW career. The level 10 pet is very important to me, because I consider it to be the pet that particular hunter will have their entire life– oh sure, they'll tame others, and may even use others in raids or PvP, but all of my hunters keep their first pet.
And one of my little quirks is that I enjoy taming the… more challinging to obtain pets.
I've ran level ten Hordies to Teldrassil. Twice. Once for the owl and once for a cat.
I've ran a low level Hordie to Azuremyst for the moth.
I've ran a level 10 Hordie to Dun Morogh for the snow leopard.
I've ran a level 10 Alliance character to Durotar for a raptor.
A good chunk of those were on PvP servers.
I've also done safer but still lengthy trips on other characters: dragging a Tauren to Eversong Woods or Trolls and Blood Elves to Mulgore. (It has occurred to me that an unusually high percentage of my lowbie hunters are Horde. Hmm.)
This was all in my mind yesterday when I did something crazy and made a character on one of my non-"Home Servers". Thus it was that I made a female tauren hunter (yes I have a billion of those, shuddup, Azeroth needs more, dangit! /shifty eyes) on Wyrmrest Accord, so I could say hello to Faeldray and Tzia, two people who have been a part of the Aspect of the Hare commenting community for a very, very long time and who both have awesome blogs of their own.
We hung out for a while and did some really nifty RP (which I may talk about later, in its own post), but always in the back of my mind as I did the tauren starter quests for the umpteenth time was what pet I should get. It had to be special, something that I could tie in to my developing character story, and preferably something I hadn't ever tamed before.
Then I had an idea.
Snoeken (Dutch for "Pike", albeit the fish and not the weapon =P) went on a little adventure.
First, the ride from Thunder Bluff to Orgrimmar.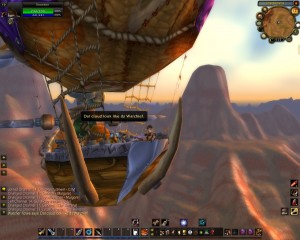 Taking the zeppelin to Undercity…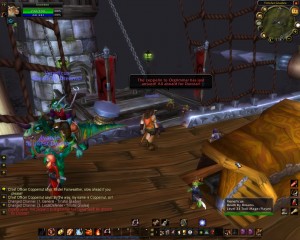 And getting on a different zeppelin and going to a very scary place for a level 10: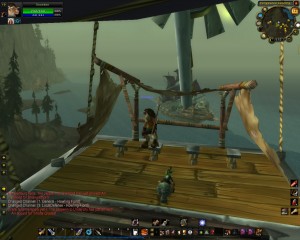 Howling Fjord.
Then came the ceremonial removing of all the clothes (except the shirt and pants– I'm a decent tauren!) and a deep breath…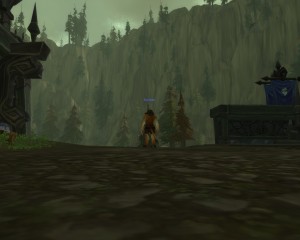 And then the corpse hop began.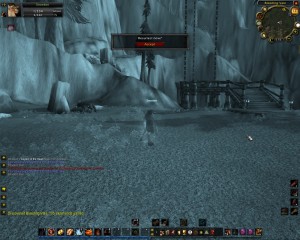 So, rez timer, we meet again.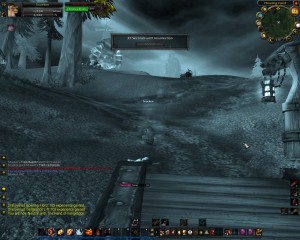 The run to Utgarde Keep wasn't that bad though, and I soon found myself where I needed to be…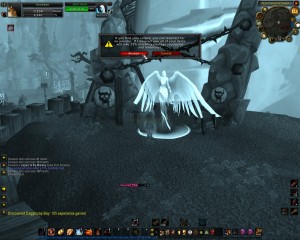 Well well well, what've we got here?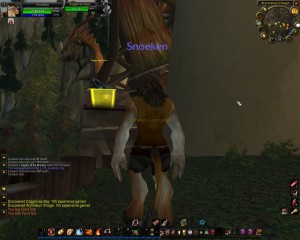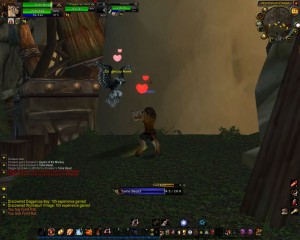 Brand New Birdie: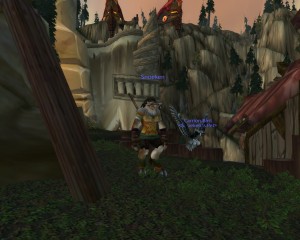 The fishertauren and her sea hawk: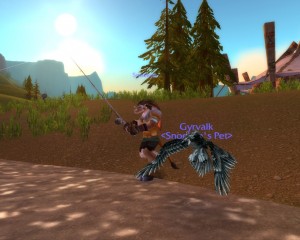 My new druid-birdie has a few bugs, it would appear. He flies extremely low to the ground (as opposed to, say, an owl, who flies much higher), and when he flies after you, he remains leaned back in his "hovering" position. The way a druid would look if it was just flying in place. I've actually had this happen to me in my druid flight form, if I time myself carefully and jump right when I enter flight form. But it seems to be a perpetual problem for the Daggercap Hawk, and it looks kind of silly. In addition, he doesn't "highlight" when you click on him, the way other things do.
Regardless of these issues, he is a gorgeous pet– and certainly unique, as well!
Now we just have to cross our fingers and hope Blizzard eventually fixes these issues, rather than conveniently deciding that a level 10 hunter shouldn't have a bird from Northrend =P