Cause they boost your damage. Eh? Eh?
Okay, cutting to the chase because I just had this blog post almost finished when Firefox decided to eat it for breakfast so I'm starting from scratch. Let's take a look at some of the shots available in your Beast Master repertoire:
Steady Shot: Once exulted on high as your best friend, now your filler shot that you press when nothing else is available. You'll still be using it a lot, though, and you'll want to boost its damage up from "abysmal" to "mediocre" as much as possible, so keep a Glyph of Steady Shot on you. For great justice. And yes, this means you'll be keeping Serpent Sting up. Anyways, when you can, you'll be wanting to stick to Shots That Aren't Steady Shot™ as much as possible…
Arcane Shot: Your new bestest buddy, you're going to want to use Arcane Shot as soon as the cooldown is up. Ferocious Inspiration and Improved Arcane Shot are both mandatory talents– as if FI's super-buff wasn't awesome before, this talent now also increases your damage with Arcane Shot. Combine that with IAS and get ready to /giggle at your Arcane Shot crits, especially after Mirror of Truth procs.
Multi-Shot: I've had good luck with this one on the Training Dummies, it's a reasonable damage boost that isn't Steady Shot. This is one of those situational ones, though. You may not want to use it if you're having mana issues (are solo or in a group without Replenishment); and you don't want to use it when there's CC about or there's a chance you might hit (and aggro) another mob with it. I know CC and aggro and all that is kind of a non-issue right now but I feel that this is a piece of hunter lore that we should remember in case it becomes important in the future. Don't Multi-Shot CC.
Aimed Shot: Most Beast Masters don't take this unless they dabble heavily in PvP, and I don't blame them– the damage increase is small these days and the mana cost is pretty prohibitive. Still, it's a Shot That Isn't Steady Shot™, and I find myself wondering if it would be worth it on a DPS dump fight (like Patchwerk) with lotsa mana Replenishment going on. I haven't tested this one myself but I'd be curious to know if anyone else has and what they think.
Kill Shot: Use it when you can! Now that the cooldown is a lot shorter than it was before, you'll probably be able to use this more than once on most boss fights. Take advantage of that fact!
And moving on…
What is my Shot Rotation, Pike?: At this point I don't know if it's a true shot rotation as much as a shot priority.
1.) Is Serpent Sting up? If yes, go to the next step. If no or it is about to run out, apply Serpent Sting and go to the next step.
2.) Is Arcane Shot's cooldown up and ready to go? If yes, use Arcane Shot. If no, go to the next step.
3.) Use Steady Shot.
Basically every time you are ready to fire a shot you are going to mentally ask yourself those three questions and go from there. If you're going to be using Multi-Shot and/or Aimed Shot, insert them appropriately between Arcane Shot and Steady Shot. Don't worry, it's not as hard as it looks– you'll be watching cooldowns and managing your pet, yes, and it can be a little difficult at times if you stink at multitasking like I do, but you'll get it. Oh, and when I say mentally asking yourself those three questions– you don't have to, uh, literally do that. But you get the picture, right?
In closing this might be sorta semi-offtopic but I've been seeing a lot of comments left lately on some blogs I read that involve people of various specs talking about how their shot rotation/cooldown-watching/whatever is bigger and as such their spec is "harder" and hence, superior. May or may not be followed by quoting Ghostcrawler. And it all kind of bugs me because it's twisting the complexity of hunters down into one oversimplification and assumption.
Here's my own take on this, and you're free to (respecfully!) disagree if you wish of course, but this is my opinion– shot rotation alone does not equal skill. Pressng more buttons does not make you a better hunter. Having more cooldowns does not make you a better hunter.
Being able to trap indefinitely, kite indefinitely, spec your pet best for whatever job he is doing, not break crowd control, know what shots to use and when, know what gems/enchants/stats you want, know when to bend those gems/enchants/stats rules, popping your "big" cooldowns at the right times, know to listen to the raid leader when he or she says "melee do this" cause you have to apply that to your pet… all of this combined with being able to pull off your shot rotation, regardless of spec, is what defines a skilled hunter to me. You can't base skill or difficulty level off of one aspect of the class alone, especially when said definition of "difficulty level" is so dependent on opinion and an individual's strengths and weaknesses.
And while we're on the subject, let me also point out that you don't have to be a traditionally "skilled" raiding hunter to earn my respect; if you're having fun with the class you've got my respect. Period. Hunters are for fun!
That's all for today, and remember: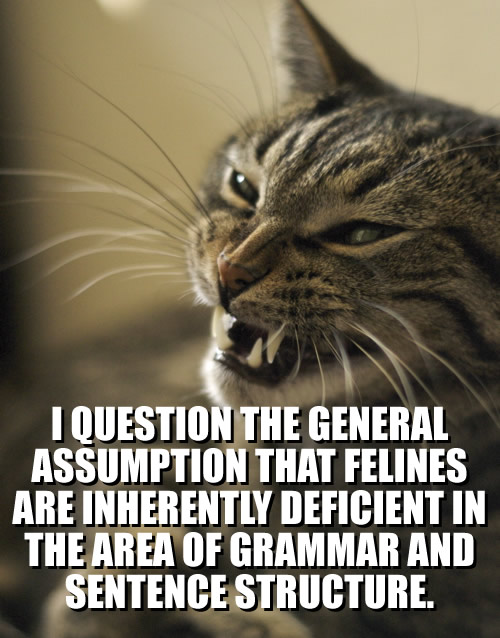 Test everything and come to your own conclusions! Don't take my word for it (or any other blogger's)– we're a guide, not a rulebook. ^_^
(P.S. I promise this ramble wasn't directed at any blogs that I read. Much <3 to you all)