I've gotten a couple comments asking who "won" the contest. I tallied up the votes and yes, the druid won. (To be fair, the reasons given for "hunter" tended to be much more passionate and convincing! But I decided to go purely on numbers.)
So I've been playing the druid and having a surprising amount of fun. I'm making good headway on the Wrathgate storyline (thanks to dual specs, I am able to quest more often than I could before), and I even got to experience being a Moonkin and not a Tree in a Violet Hold.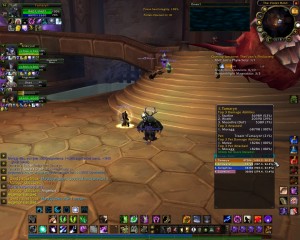 …by the way, they're OP. *cough* >.>
Boomkinning is interesting; playstyle-wise it feels like a somewhat less hectic version of Survival Huntering, in that you are waiting for a proc (in this case, Eclipse) which then changes up your rotation. (Said proc likes to happen on the last spell you cast before the mob dies, by the way.) I gotta say though, you'll never be able to take the hunter out of the girl, as was evident to me anytime my treants died and I went into a panic and reached for my Revive Pet button. Overall it was a very interesting experience to do something I've done so many times on my hunter– DPS a familiar instance– as… well… a non-hunter.
Okay, clearing-things-up time. I think a lot of people are worried that either a.) I am not interested in my hunter anymore, or b.) I will be writing less huntery things here now. Neither of those could be farther from the truth. You should all know by now that I'd never be able to leave huntering, and on top of that, I've had several great huntery post ideas hatch in the incubator that is my head recently and I'm really looking forward to doing some of these posts. I'm mostly just waiting for next week because I'm OCD and like to start things on Monday.
I also think that there is a misconception going around that I am making a conscious effort to fill the shoes of BRK and as such I am actively trying to change the direction of the blog. The truth is, I'm not. As in, I'm not either actively trying to be or not-be the new BM hunter hotspot. Aspect of the Hare has always been an amalgamation of information, education, personal stories, and an attempt to document the WoW experience from the standpoint of someone who is okay at the game but not great and would rather set 80s dance music over thrash metal to her WoW movies. Because there are a lot more of us out there than people realize. That's what I've always been, and that is, well, what I still am. If that makes me the new BRK, then hey, that's great! And if not, then well, I wasn't trying to be the new BRK anyway! =P
The only effect that other bloggers quitting blogs has had on my own blogging is that I am determined more than ever to not become a victim of the disease where blogging usurps playing. Blogging about WoW, especially once you have an audience, is hard work. You play for yourself but you have that "Would my audience find this interesting? Would this make a good post idea?" in the back of your head. I don't think it's bad to have that in the back of your head, especially if you enjoy blogging (which I do); it becomes bad when that jumps over to the front of your head, if that makes sense. I'm not gonna let that happen. I was never really one of those people that tried to become THE-BESTEST-BLOGGER-EVER anyway, beyond the basics.
All that said, believe me, it does flatter me greatly when I receive positive comparisons to BRK or other blogging "greats". The comments I get from people saying I helped make them a better player, or I brighten up their day, or they love my writing style– all of these combined with my general enjoyment of blogging are what keep me going. So, thanks, and I hope to provide lots of fun and hunteryness for many months to come. ^_^
/off soapbox