So someone brought up gnome hunters in the comments on my last post, so are you ready to talk about it?  I am READY to talk about it.
In case you hadn't heard, Blizzard has been dropping hints about gnome hunters on Twitter for about a week now.  Mechanical chicken pet included:
@Muffinus #legion You can thank Muffinus and the class team for their years of ceaseless dedication to gnomes! pic.twitter.com/Y7q2aBoRYn

— Alex Afrasiabi (@Abrosiabi) November 13, 2015
What do I think about this? Well obviously I am
HAPPY
about this, because I love gnomes and I love hunters.    Let's talk a little bit more about it:
THE GOOD:
Gnome hunters will now exist.  That's awesome.
Even people who don't like gnomes will be happy, because this gives them more chances to kill gnomes in PvP (although why would you ever do that??)
MECHANICAL CHICKEN PET (assuming it's not temporary, at least)
This gives me hope for the idea of MORE mechanical pets in the future.
Every race in the game can now be a hunter, which is good for diversity/player choice.
Roleplaying opportunities, anyone?
THE BAD:
Like, nothing.  There are no negatives to this.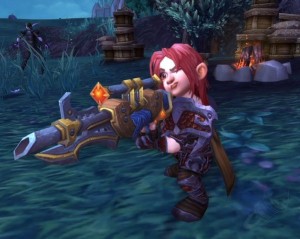 THE "SHORT":
Let's talk about faction stuff a little bit.  Long-time readers probably remember that I mostly played Alliance back in the day, and these days I mostly play Horde.  The fact is that, as time has gone on, Blizzard has managed to make the Horde more and more appealing to me.  I've always loved Tauren a great deal, but Blizzard later graced the Horde with blood elves and goblins (basically just green gnomes), both of whom I really love.  They also made Orgrimmar a heck of a lot cooler than it used to be.
Meanwhile, Alliance got worgen, whose movements and animations are weird and jarring to me (sorry worgen fans) and a Stormwind revamp that I'm not a huge fan of.   (I just miss old Stormwind, okay?)
Throw in the expansive vanity guild bank I have Horde-side and I'm pretty much playing that faction exclusively.
So on a personal level, there are pluses and minuses to gnome hunters.  The plus is that I can drop a level boost on a gnome hunter and then play with my friends, since I feel like approximately 99% of the people I want to play WoW with are Alliance.
But on the negative side, any gnome hunter I make probably won't end up being a "main", because a gnome hunter wouldn't be Horde, and I'd prefer to stay Horde.
Oh well.  GNOMES!