Okay I've played around with Beast Mastery a bit in heroics and stuff and I have some tips for it. Note that this is not a comprehensive guide and I haven't done any rooting around EJ or any real math or anything.
OVERVIEW:
Beast Mastery is now providing a very different playstyle than it has in the past. See, we used to be all about burst. Now, we're all about ramping up. Your AoE damage is gonna suck now that we've lost Volley and MultiShot is expensive, focus-wise. Your DPS is probably gonna suck if your group is full of warlocks doing 10k on bosses (did I mention that I'm back to leveling my warlock? >.>) and thus the bosses die within ten seconds. Where your DPS is going to shine is on longer fights that allow you to use Focus Fire, get some of those tasty Kill Command crit procs (can't think of the name right now), and take advantage of the new Glyph of Kill Shot which is ridiculous and awesome.
In addition we have a lot of fun procs and a lot of fun buttons to press and while I still dislike the mechanic of Focus (until I get used to it anyway) I'm liking all the new stuff-to-do. I've spent some quality time with all three specs and I can honestly say that I find the new Beast Mastery to be the most fun– and I'd like to think that I'm not being biased when I say that, seeing that I really fell in love with Survival a couple months back.
ROTATION:
Basically on a single-boss fight you are spamming Arcane and using Kill Command when it's up. Use Bestial Wrath when it's up. View Steady Shot as a "Mini-Viper" of sorts (that made the transition to using Focus easier for me). I.E., when your gas tank is starting to run dry, pop a couple of Steadies to get it back up to speed. Use Focus Fire when you see the icon light up. I had a comment ask if they had to be watching their pet's Frenzy stacks now– no, you don't, as far as I'm aware, because Blizzard is nice and made it so you get a big shiny glowy effect on your Focus Fire button when you can use it. (Note: you also get the big shiny glowy effect when your Kill Command "Killing Streak" thing procs.)
Just like I view Steady Shot as a new Mini-Viper, I also view Fervor as a Mini-Readiness of sorts, because it restores Focus to you and gives you a few extra seconds of Fun Stuff To Do. That is, I'll pop it a few moments into a Boss Fight, as follows:
TYPICAL BEAST MASTER BOSS FIGHT:
The Beast Within ->
Rapid Fire/Any Trinkets ->
Serpent Sting ->
Spam Arcane and use Kill Command when it's up ->
Once Beast Within fades, pop Fervor… this will give you a little more juice now that you're not getting the Focus cost reduction from TBW anymore. ->
Right around here Focus Fire is gonna light up, so use that. ->
Go back to Arcane/Kill Command and Steady as necessary. Serpent Sting again if you've got a ways to go on the boss. ->
Optional: Check Recount and feel special.
SPEC:
Pretty straightforward; scoop up the talents that give you DPS increases. Really the only choice you'll be making is Spirit Bond vs. Improved Mend Pet. As usual I'm addicted to the latter but I imagine most people will pick the former, or perhaps put one point in each.
I had five non-Beast Master points left over, which I dumped into Go for the Throat and Efficiency.
GLYPHS:
Right now for Prime Glyphs I'm using Kill Shot, Steady Shot, and Arcane Shot. They're sexy.
OVERALL SPEC/GLYPH SETUP:
I'm using this. Use at your own risk because I sort of just made it up as I went along.
PETS:
Corehounds are the current New Hotness because they get Bloodlust/Heroism. A lot of pets get a lot of great stuff though, check out this chart for details (I didn't make it):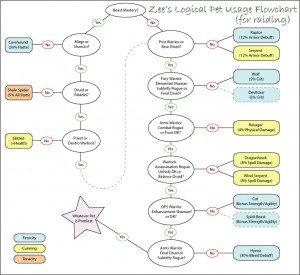 …of course, really the chart should have a line that says something to the effect of "Are you Pike -> Yes -> Use Whichever Pet is Prettiest" because you guys have to remember that I'm that person who refused to use a wolf throughout the entire duration of WotLK because I thought dinosaurs were much more awesome, so…
…yeah. *coughs*
THINGS TO LOOK OUT FOR:
I'm not sure if it's bugged or what but Kill Command sure likes to tell me I'm "out of range" and the like when I try to use it. DISREGARD THAT, just wait to use Kill Command until your pet is actually attacking something.
Also my pets seem to be dying a lot.
Dunno, I'll get back to you on those.
Okay, I think that's about it. Questions/comments/rants/raves/rambles? Lemme know! *points to commenting link*