Hey guys remember the Netherwing questline and how it was super hardcore back in the day to have one of those netherdrakes?
…so yeah, I never did it. I dunno, just wasn't my style. I know it was the hip thing to do back in Burning Crusade, but I just never got around to it.
So anyway, the other week I randomly decided, you know what, let's do that Netherwing quest chain. I mean, at the end you get what I like to call an aetherdragon mount. (Fact: Attaching the word "aether" to any other word as a prefix instantly makes said word several more levels of awesome than it already is.)
Furthermore, I've decided to do it on my Hordie rather than on my main. I'm not exactly sure why. Maybe it's because I hate myself, because it's on a PvP server and all. Or maybe it's because I already like my mounts on Tawyn. Who knows. Sometimes I just get the urge to do things on a different character. My Hordie is, after all, also the only one of my toons with the talbuk mounts and the Diplomat title, and I have no intention of ever repeating either of those feats on my main (partially because I think it's out of character and partially because the grinds suck).
Anyways, I'm at the point now where I'm logging on, doing a few quick Netherwing dailies while in queue for a random, doing the random, and then calling it good for the day. I'm taking it nice and easy and I'm not spending hours hunting around for eggs or anything, so this will probably take a while. Honestly, if I have the drake by the time Cataclysm comes out, I will be utterly shocked.
Oh well! I'm in no rush.
In related news, doing the Netherwing dailies gives you a spiffy male Fel Orc costume, even if you are a female, and I have discovered that using the Darkspear Pride item here will turn you into a male troll. I love crazy gender-bending tricks like that.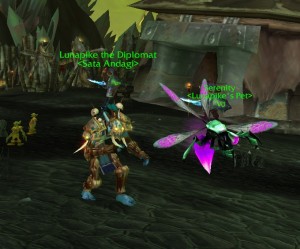 Speaking of Cataclysm, I'm rather apathetic about it. Not in a emo/ragequit/etc. way, but more in a "Well Cataclysm probably isn't gonna affect my silly Netherwing grind or my newfound addiction to battlegrounds as a gnome rogue, so I'll take it or leave it" way. That's not to say I won't go nuts rolling ten thousand goblins when the game comes out, but you know.
Though now that I mention it, reserving a copy would probably be a smart idea…
(Edit: Just occurred to me: flying around Orgrimmar on a netherdrake is gonna be boss)