Sooo, I'm not gonna beat around the bush. I've kinda been on WoW hiatus lately. Hence the rather spartan blog post schedule.
It's not that I decided WoW is boring or I don't like it anymore, oh no. I love WoW. But I've simply found that writing and drawing is more fun at the moment. So other than logging on for a raid every so often, I've mostly been AWOL.
Then I realized something. Namely, today is the day my Recruit-a-Friend ends.
Dang. I wish I coulda somehow put that on pause through, ya know, ALL OF NOVEMBER when I was doing my NaNo. But ah well. It is what it is, right?
Sooo I promptly opened up two WoW windows, logged in, and ran around like an excited uromastyx (dontcha just love my similes?) trying to reach a little goal I had in mind with my main RaF project. The result: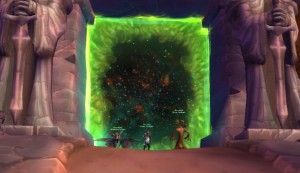 Man I love Recruit-a-Friend. Yesterday these characters were like, level 55 and 56 respectively, and here they are all-growed-up and headin' to Outlands after a mere three quests in Silithus. (To be fair, all Silithus quests are "Kill a billion of these, and another billion of these, and each time you kill one something else randomly spawns", so that may have had something to do with it, but you know.)
Umm yeah so this is another hunter and another resto druid. SHUT UP >_>
Anyways, I managed to hit the big "five-eight" literally a minute or two before the battle.net Account Management page told me my RaF would end (they conveniently tell you not only the date, but also the exact time and time zone). This was followed by the pleasant surprise, though, that Blizzard is apparently not super accurate with this so I wound up heading to Hellfire and getting to 59 (or very close to it) and still having RaF active. I was also able to do that "Grant-a-Level" thing and distribute free levels to a bunch of lowbie alts of various classes I had hanging around. Dunno if these alts are ever gonna see any playtime, but hey, now I've got a veritable army of Hordies all sitting between levels 10 and 15, and it's kind of neat. One of them is a shaman and one of them is a priest and I haven't played either class past level 8 before. Hrmm.
I considered continuing to plug away at Hellfire and see how long my luck would last with the mysteriously-tenacious Recruit-a-Friend, but I got hungry so I logged out to eat and write this blog post. Exciting! …sorta. *shifty eyes*
…well, that's all really. It was TL;DR, I know. NEXT TIME: Pike's Five Most Epic WoW Moments That Do Not Involve Boss Fights.
But for now… *scoots away to write n' stuff*