The discerning blog reader who has clicked around on my links and Armory profiles lately may have noticed something interesting; namely, my two level eighty hunters, while both Beast Masters, are currently sporting (slightly) different specs: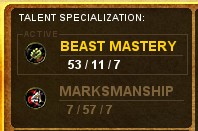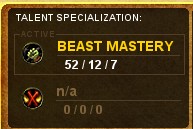 Tawyn is using a 53/11/7 build, and Lunapike a 52/12/7. It may look like a difference of one talent point on the surface, but it's actually three. Let's dig deeper and take a look.
Tawyn has: 3/3 Cobra Strikes, 1/2 Go for the Throat, and 0/2 Invigoration.
Lunapike has: 2/2 Invigoration, 2/2 Go for the Throat, and 0/3 Cobra Strikes.
First, we'll take a look at Invigoration vs. Cobra Strikes.
Why the difference?

Short answer: Lunapike just hit 80, while Tawyn has been 80 for a while and has thus amassed a relatively decent set of gear.
Long answer: Cobra Strikes is a solid DPS boost. However, Invigoration should theoretically keep you out of Viper for longer and thus could also be construed as a DPS boost. Which one you want to take is situational.
Lunapike just hit 80, as I mentioned. At the moment she is mostly doing dailies, and five-mans and heroics where Replenishment may or may not happen. She also is still mostly in leveling duds and thus has a very small mana pool.
Tawyn has a larger mana pool and is mostly in raids these days, where there's often a lot of mana regen being thrown around.
Guess who is going to want Invigoration, and guess who's going to want Cobra Strikes?
Both are, in my mind, acceptable, though in general, I feel a level 80 hunter is going to eventually migrate from Invigoration to Cobra Strikes. Your mileage may vary, as always, so play around with it… but I sorta think this is a common sense one. /nod
Now, let's move on to Go for the Throat, that lovely, lovely talent that all hunters everywhere of every spec should have at least one point in, because it's such a DPS boost.
Lunapike has this talent maxed out. Tawyn only has one point in there… the "other" point is going to max out Cobra Strikes.
Why the difference?
Short answer: Lunapike just hit 80, while Tawyn has been 80 for a while and has thus amassed a relatively decent set of gear. (Why yes, I did just copy paste this from above.)
Long answer: Go for the Throat works off of critical strikes. The more you crit, the more focus you feed to your pet. Let's compare the critical strike chance of our two examples, unbuffed:
Here's Tawyn: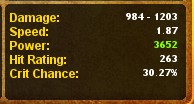 And here's Lunapike: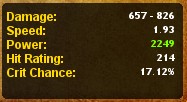 Big difference in stats, huh? Especially in crit rating! Tawyn crits almost twice as much as Lunapike!
This, my friends, is why Tawyn can get away with only one point in Go for the Throat. Because she crits enough that she only needs one point in there. Actually, even Tawyn is barely squeaking by. The online hunter spreadsheet tells me that unbuffed, I could use another point in GftT, if I had one to spare. Fully raid-buffed, though, I'm good to go, so I feel fine with not having the extra point… it's hard enough to find places to pull talent points from as it is; there are so many goodies out there for us to nab.
But can you imagine if Lunapike, with her mere 17% crit, only had one point in Go for the Throat? If the online hunter spreadsheet could have a stroke, it would. Of this I have no doubt. All the hunter theorycrafters of yesteryear would collectively roll in their virtual graves. It'd be a disaster, I tell ya!
Conclusion? Well, when it comes to Beast Mastery, there really is no set-in-stone spec. 41/20/0 and its rigidness has been nailed tightly in its coffin for some time now and in its place we have a little bit of flexibility. Having mana issues? Invigoration is the way to go. Not so much? Go for Cobra Strikes and scoop up the extra pet crits. Below about 30%ish crit? Two points in Go for the Throat. Otherwise, you can get away with just one.
But above all, remember to try things out, and see what gets you the best results. Heck, you may have the best results by dropping some of the points in Survival all together and distributing them among the talents we talked about today. Research: it does a hunter good.
And with that… hunterbots, roll out!