So feeling nostalgic after my last post, I decided to give Arathi Basin a whirl on my level 46 hunter. AB is arguably my favorite battleground; WSG is a sentimental favorite but it's in a masochistic sort of way and I'm sort of afraid to go in there now that it's changed, AV used to have that epic feel but has turned into a zergfest, and EotS… well, we won't go there.
Turns out the Intimidation + Bestial Wrath combo on a clothie is just as fun as it was years ago, and turns out pouncing on an unsuspecting hunter and Wing Clip + melee'ing him to death while he stands there stunned is still absolutely hilarious.
Gosh I love PvPing as a hunter. Nothing else compares, really. Healing is funnish and a nice change of pace but it's nothing compared to huntering. I always wonder what people are on about when they say hunters need a buff in PvP– to be fair, I know they're talking about arenas, and I'm talking about lowbie bracket battlegrounds, and there is a huge difference– but gosh I feel OP, and I luuuurve it. I basically never die, even when taking on groups of people alone. Really the only downfall is that you run out of mana far too quickly, and then regenning mana takes pretty much twice as long. >.>
So yeah, this AB. I went in and we were getting the whole "Not enough players… this BG will end in five minutes" dealy. I looked at the scorechart; Alliance had a full 15 players and us Hordies had five or six or something. I contemplated leaving, anticipating a five-cap stomp, but then said "ya know what, screw it," and ran off to Lumber Mill.
We took Farm and took Lumber Mill, and for several minutes I was the lone person defending Lumber Mill as everyone else ran off to Blacksmith. This is where I single-handedly took on groups of two or three Alliance who kept trying to come attack me and who all failed miserably. Did I mention I love being a hunter in battlegrounds?
Anyways, we were getting more and more Hordies by the minute and finally fulled out to a full 15 vs. 15 AB. We were on a roll at this point, Alliance had no chance. Like there were a good six of them defending Mines, so we did a two-pronged attack on them, two or three of us attacking from each side, and just nabbed it out from under their nose. By the time we won we had about double the resources that they had. It was hilarious.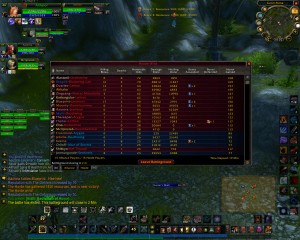 Almost as fun as an instance, a nice break from questing, and you get XP. Yay! I love you Arathi Basin.