There they were, high in the hills of Crystalsong Forest. Tawyn and Perezvon. They'd flown there atop the broad, red wings of Spirakistrasz, Perezvon the wolf enjoying the ride as he always did, ears flapping.
Tawyn had grown attached to him since nursing him back to health some time ago, but she had since discovered that they were not the best fit for each other. He was loyal, and he fought as hard as he could, and his howl was inspiring to her. But he lacked the pure unbridled storm that Wash seemed to possess, and the cunning of Eltanin and Tux, and the stealthy movements of Locke. Perezvon was a good friend, a companion– but Tawyn needed a fighter.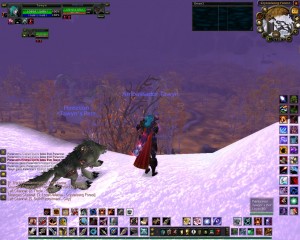 They stood there and Perezvon wagged his tail a bit, as if to ask what they were doing out here. That tail, Tawyn thought. She was convinced by now that he was only half-wolf, and half-domestic dog. She was also convinced that he'd had an owner at some point, before her, which is why he had warmed up to her so fast– and it was time to return him to his home.
"Perezvon," she said, in a gentle voice that none but her pets ever heard, "It's time for you to go."
The wolf looked up at her and blinked once or twice. He of course could not understand Common, but Tawyn's training as a Beast Master had given her enough of a bond with her pets that she was able to get the gist across with little more than the tone of her voice. She looked down at him. "You were hurt, and you needed someone to fix you up. I think you are going to be okay now." She looked back up at the horizon. "And I don't know where your home is. But I know you know how to get there."
Silence. The wind blew a bit, rustling some nearby leaves.
And then he was on her, licking her face, and Tawyn sprouted a lopsided grin and cackled, "Git outta here, boy… go home."
And he did, running through the snow.
The last thing Tawyn heard was a furious howl.