I'm not going to get all long-winded. I'm not going to get all sappy. I'm not going to turn this into a eulogy because I don't think there's a reason for it to be one.
I'm not going to say BRK was the first hunter blog I found, because it wasn't. That credit goes to Lassirra at The Hunter's Mark and I will give credit where credit is due. I'm not going to sit here and talk about how I found BRK at level 24ish and grew up on BRK Brand Baby Food, cause I'm sure I've mentioned that before.
I am going to tell you a quick story.
Today I got into an already half cleared Naxx25 PuG. Normally I bring Wash to my raids, but today I brought Locke, my kitty. Because it seemed appropriate.
Four Horsemen was the first boss we did, which made me happy cause it's basically my favorite fight in the entire raid, and then we headed over to Noth. The raid leader said he would give away a free flask to the top DPS on the fight.
I looked around. I was one of four hunters. Every one of the others was cookie cutter Survival. Every one of the others outgeared me.
I looked down at my kitty. Us against the world. As it should be.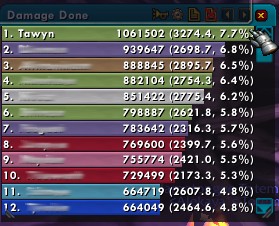 The raid leader asked to see the overall damage done thus far in the entire raid, as well. Someone posted it.
I got a free Flask of Endless Rage.
I'm not trying to say that I did the best DPS in the world. But I am trying to say that this wouldn't have happened if I hadn't stumbled across BRK and the rest of the blogosphere as a young level 20something throwing random talent points around and dying all the time. It goes beyond just DPS and performance, too– it's about "Look at this amazingly fun class! *skips around with glee*" That's what hunter is.
Of course, as I think many of us sort of feel, you eventually "graduate" from the Alma Mater that is BRK-U, (though you never truly leave, of course), and that's where the person comes in. I remember him IM'ing me when he added me to his blogroll, complimenting me on my writing. I remember shyly whispering him in game on his server and being chucked a guild invite. I remember meeting up with him in WotLK Beta and him dropping everything he was doing so he could come see if we could two-man Molten Core in the name of a Core Hound. He wasn't shy about whispering me the second I logged into Beta every time after that, informing me that it was about time I showed up!, and the two of would begin us cracking jokes like old friends.
"Of my friend, I can only say this: of all the souls I have encountered in my travels, his was the most… human." – Captain James Tiberius Kirk
In closing, I ask that you read my favorite BRK post of all time, ever, and then head over to the newest post and wish a friend good luck, if you would. We may not be able to read of his adventures and misadventures anymore… at least not for a while… but he is happy.
—
"Hey, Brain, what are we going to do tonight?"
"The same thing we do every night, BRK. Try to take over the world."