Buff food for us hunters is pretty self-explanitory. We like food that gives us Attack Power or Crit or Agility, or possibly even Hit or Haste, depending on our gear, spec, and circumstance. Don't forget, though, that our pets can get buff food too: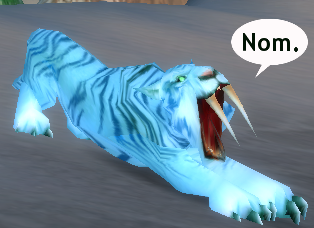 Currently, as far as I am aware, there are three foods in the game that will buff your pet. These are they:
Sporeling Snacks: An Outlands recipe available from Sporeggar rep, this food will give your pet 20 stamina and 20 spirit for 30 minutes. Requires level 55 to use.
Kibler's Bits: An Outlands recipe from the Shattrath cooking daily, this food used to give your pet 20 strength and 20 spirit for 30 minutes– now it has been revamped and gives your pet 30 strength and 30 stamina for one hour. Requires level 55 to use.

Spiced Mammoth Treats: A Northrend recipe from the Dalaran cooking daily, this food has the exact same effect as Kibler's Bits: gives your pet 30 strength and 30 stamina for one hour. Requires level 70 to use.
Now by looking at these three foods, it's pretty clear that our poor old Sporeling Snacks have been outclassed. It doesn't last nearly as long as the others and the stats are subpar. Still useful for leveling through Outlands if you happen to snag the recipe and mats, but even then, not really worth reaching for.
The other two, though, are your pets' new best friends in raids or heroics!
Most cooks find that the Kibler's Bits are much easier to make due to the easier-to-obtain ingredients. Me, I don't have the recipe for either so I stalk the AH for both of them. They tend to be pricey when they pop up (though I can occasionally find Kibler's Bits for quite a steal– I've bought a full stack of 20 for 3 gold) but the benefits they provide are pretty nice: a DPS boost and a survivability boost for your pet.
Plus, c'mon, he's just so happy when you give him a treat!
So don't forget to bring some with you alongside your hunter buff food: your pet will thank you. Oh, and also remember that the food doesn't work like normal "pet food"… you don't use the Feed Pet command to feed him. Rather, you "use" it like you would a food for yourself.
And no, I don't know why an Outlands recipe and Northrend recipe with a usable-level discrepency are exactly the same either. I sort of suspect this may randomly change in a future patch, but hey, who knows?
In closing, I was a "caster tank" on Four Horsemen today. It was really fun, and I got a shiny new sword. *swings it around and hums contentedly as her pets dash for cover*