If I had to pick a favorite part of World of Warcraft it wouldn't be hunters. Nor would it be the social aspects of the game (though admittedly, that one is largely because most of my guildies are now effectively out-of-game-friends as well– we all hang out in AIM chats and stuff).
No, my favorite aspect of the game is character creation. And by that I don't mean the whole choose your race/class/silly hairstyle part, although that is fun too.
I mean coming up with a story and personality for your character and stepping into their shoes for a few fleeting hours. That's what I mean. That's my favorite part of the game. That's one of the things that first enthralled me when I started playing WoW. "Wait, you mean I can create my own video game hero/heroine?" Now don't get me wrong, I love Mario and Link and Solid Snake and Locke Cole and Jim Raynor and Master Chief. I love them to bits, heck, don't tell anyone, but I have a crush on Link that is like… thiiiiiiiiiiiiiiis big.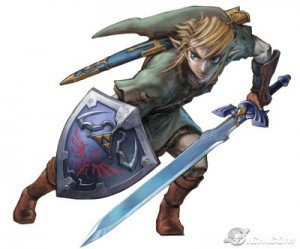 Link. Om nom nom.
*cough* Sorry, sidetracked.
Anyways, yeah, there had been times before where I could sort of create a character, but not in the same way. Neverwinter Nights and KotoR were solid games but didn't grab me on a "character" level. Pokémon didn't let you create female characters (which I really wanted to do) until I'd already sort of drifted away from the series. Et cetera. Other games let you sort of make a character but thrust you into an already formed backstory anyway.
But with WoW, I discovered the game alongside my character. I learned things like how to play my class alongside my character. And for some reason, this was the first game where I not only experienced the story as I would personally, but thought about how my character would react to all the events unfolding around her, too. By the time I was max level, I cared for my character in a very deep and hard to explain way– she was sort of me, but sort of not me, and she was a good friend who I experienced this crazy world with. She has a real personality, one that is different than that of any of my other characters. In a way, she is real. She is something I created and can be proud of not just by topping a DPS meter or getting her all decked out in purples, but by being able to feel like I created a character in a story.
Mirshalak recently queried, "What are you addicted to?" What keeps you coming back to the game? Sure, my guildies do and my hunters do and my general enjoyment of the game does. But more than all that, for me, it's the way Blizzard really succeeded in creating a world that just sucks you right in. It's the way every time I do one of the opening quests that I've done a million times, it's fresh and original because I'm seeing it through a completely different set of eyes. It is pure distilled roleplaying without actually going out and walking slowly around the Cathedral District and having some deep discussion about the state of Azerothian affairs. It's something that I've yet to be able to experience anywhere else, with the exception of maybe Dungeons & Dragons, but for me this might even be more than that because it is so visual and hands-on and I'm a very visual and hands-on type of person.
That's what keeps me coming back. My friends are here– and this time, by friends, I mean characters.
Okay, gonna end this now that there is a big neon "GEEK" sign hanging over my head. =P My WoW account is now safely reactivated though I don't anticipate too much activity for the next couple of weeks; I am moving into a new place and that will require most of my attention for a little while! Still, I'll be here, yapping away, I'm sure.
P.S. Since I've already linked to one blog in this post, go read this. Trust me.