I have really been trying to get in a lot of "DPS testing" so I can get a feel for how Beast Mastery is doing these days. The training dummies and I have become good friends, and I've even sometimes just sic'd Wash on the training dummies and sat there for minutes at a time watching him go (this is actually what inspired me to take a point out of Improved Mend Pet and stick it in Frenzy, pushing me back up to 4/5. It just wasn't proc'ing enough to satisfy me as 3/5. Granted, that doesn't take raid buffs and Cobra Strikes and the like into account, but it was bothering me.)
PuG'd a 10man VoA; the other hunter was a Marksman hunter who seemed to know what he was doing, and had a wolf (the hot new pet in town!) I am pleased to report that we were one-two on the meters, neck-and-neck, both of us doing somewhere in the ballpark of 3800 DPS on the new boss. On the trash pulls Wash and I were consistently well over 4000. In mostly Naxx10/heroics/rep gear. This rather satisfied my own curiosity regarding the viability of 3.1 Beast Master in your average raid situation.
Then something interesting happened. I was invited to a late night Naxx10 which I chose to attend (yes I know, this was my "break week"… yeeeah). There was another hunter there who was better geared than I and clearly knew what he was doing, and ya know what?
He was spec'd 53/11/7.
That's right. I was in raid with another Beast Master. An Elitist Jerks approved spec, too, and one that I'd tried before but didn't really like.
I might have to try it again, however, since he and his wolf roflstomped me on the meters… okay, mostly only on Loatheb. Oh my goodness did he roflstomp me on Loatheb. I blame his 3/3 Cobra Strikes when he had the spore buff, while I'm currently sitting at 1/3. We were pretty close on the other bosses though, and I was ahead a time or two. We didn't hit Patchwerk, unfortunately (too many people decided to mysteriously disconnect about halfway through the raid)… I would have been curious to see those numbers.
Oh, another interesting thing about that hunter, he didn't use Multishot. At all. Whereas I weave it into my rotation whenever it's up. It might be a mana conservation thing because I've always had good luck with using Multishot, and I like using it because it gives us more to do. Still, I may have to look into that.
It's still "Wash and me" by the way, although I've tamed a wolf to try it out, but since the wolf lacks a focus dump move I wonder if the new Furious Howl would be worth it for us Beast Masters. Reports in the aforementioned Elitist Jerks thread (which is a very good thread by the way) are putting wolves second to Devilsaurs, with raptors in third. So, we'll have to see. I still maintain that you should strike a balance between finding a pet that is good to use in your situation, and finding a pet that you like and are attached to. In my humble opinion, that is just a part of reaching the Grand Pinnacle of Hunteriness.
Okay! I apologize for potentially boring my lovely non-raiding readers with babbles about numbers. However, there is a lot of curiosity for this type of thing right now if my site's Google hits are to be believed, so I figured I'd share my musings with the hungry masses. You will be redirected shortly to typical Pike stories and guides. For now, for lack of anything else to say, have a picture I made for my guild a year or so back: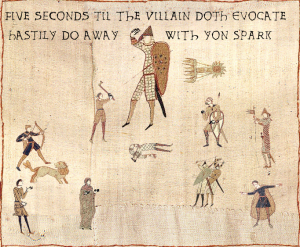 If you guess what it is without looking at the alt text, you get a cookie =P
(Thank you, Historic Tale Construction Kit!)