So I was feeling pretty happy about hitting 20k words (exactly!) in my NaNoWriMo today so I decided to dink around in WoW for an hour or two.
The first cool thing that happened was getting WSG for my random battleground, seeing that our ragtag group of team members was up against a pre-made, deciding to stick around anyway… aaaand then notching up a win. Against the pre-made. I giggled.
The second cool thing that happened was that I decided to clear out my quest log before Cataclysm so I was doing this random quest down in Howling Fjord and I happened to stumble upon this huge gigantic elite polar bear as part of the quest. So obviously I tamed him.
So there I was, doing pretty good for a random WoW break, so I hopped onto my Netherdrake and sort of aimlessly started to fly around in a general Northerly direction. I had the music on (which is rare) and it was nice and calm and atmospheric and I was kind of thinking about the good times I'd enjoyed with this expansion and how it was almost over.
And this is when the third cool thing happened. See, I somehow wound up in Zul'drak during this little jaunt, and a little voice popped into my brain. The little voice said, "Hey, isn't there a spirit beast around here or something?"
And I said, "Hey, I think there is! Let's turn on Track Beasts for the heck of it."
So I turned on Track Beasts.
And the second I did, this little yellow dot appeared on my minimap.
I moused over it and it said "Gondria".
>.>
…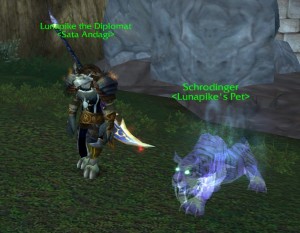 This is, believe it or not, my very first Spirit Beast. I know Gondria is sort of seen as the Poor Man's Loque, but I'm already in love with my Shiny Ghost Kitty who, because of his heal, has already proven himself to live through things that would have killed any of my other pets. (Read: the last boss in Gundrak who does that thing, I'm not sure what it is, that KILLS PETS DEAD.)
I had to release my newly-tamed polar bear to get Gondria. But don't worry. I went back and got the same bear again afterwards. :3