I can't decide which is more fun, my warlock or my rogue.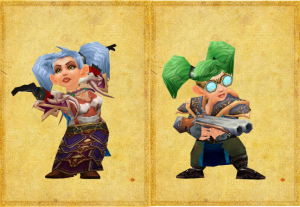 My warlock is currently level 47 and I'm leveling her with my boyfriend's warrior tank. His goal with the character is to Tank Everything In The Fracking Game at the Correct Level. That means if he has to XP-pause at 60 to tank the raids, he'll do it. And if he has to XP-pause at 70 to do the same, he'll do that too. And he has roped me into his nefarious plans.
For the record– The Boy is an amazing tank. And he is decked out in blues that are enchanted with stuff like Mongoose. And the other day in ZF I pulled aggro off of him on the final boss.
THAT IS HOW AWESOME MY WARLOCK IS.
Also fun. Did I mention fun yet?
Oh by the way, I never die. Like the other day, after the ZF run was finished, it was just me and The Boy left in group and we were kind of running around for fun and we ran smack into a respawned pack of mobs.
The Boy charges into the fray and is promptly Hex'd and turned into a frog.
Mobs all beeline for me.
/Howl of Terror
/DoTDoTDoTDoT
/Drain Life
/point
/laugh
Yeah that was fun.
But then there is my rogue. Oh my gosh. I have the goggles + the heirlooms and my rogue never dies either. …okay, that was an exaggeration. I've died a couple times on my rogue. Sucks to not have heals. Still, I've also taken on unexpected packs of like four mobs, and lived to tell the tale. I usually have like 5 hit points left, but still. I LIVE. Also solo'd Hogger at the appropriate level. Did I mention that Evasion + BoA items + dynamite is OP? I love it so much.
It's probably too early to say anything definitively about the class this early on, though, but it is SO FUN, I am so excited to do more leveling with this one. How did I never get into rogues before? Silly Pike!
So, I'm seriously considering changing mains for Cataclysm (assuming I am still playing– I still have so much stuff going on IRL that I'm really just playing it by ear at this point). No real major reason, just kinda want to try something different. The question, though, is change to what? Healy Druid was my original inclination but I still haven't recovered from the impending Loss of Perma-Tree, since Tree Form was the entire reason I rolled healy druid to begin with (I know, I'm lame), so now both warlock and rogue (and maybe Goggles Bear) are at the top of the contenders list. We'll see how things go!
(Also toward the top of the list: Gnome Priest, and Goblin EVERYTHING.)