** Low level LFG! The LFG at 80, right now, is not on particularly good standing with me. Dungeons I've done a million times before and groups that are like RUSH RUSH RUSH RUSH ZOMG ZOMG RUSH RUSH LET'S ALL MAKE FUN OF THE HEALER AND DPS IF THEY FELL A BIT BEHIND THE TANK ON ONE PULL. Heaven forbid you're new or an alt and still have a couple blues and people inspect you. I mean sometimes you luck out and get a good group, but meh. Needless to say none of my 80s will be getting "the Patient" anytime soon.
Low level dungeons, though, are awesome. Sure, half the time the groups have no idea what they're doing and there's no tank or healer, but frankly I'd take that over "AMG RUSH RUSH GEAR SCORE OVER NINE THOUSAAAAAAND" any day. Maybe that's just me, though. Gimme my Deadmines and Shadowfang Keep and Wailing Caverns, please. …okay, maybe not Wailing Caverns.
** My warlock. So did this class suddenly decide to get awesome and fun when I wasn't looking? I tried about three thousand times to make warlocks and suddenly it clicked, I guess. I just DoT things up, watch my screen fill up with numbers, and cackle when I Life Tap + Drain Life.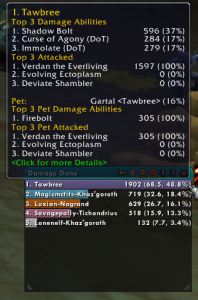 ** Enchanters in groups. I get all excited when the little "Disenchant" button pops up. Even better, my 'lock is an enchanter, so everybody gets all excited about her being in their group.
** Tower Defense games. This has nothing to do with WoW, but it does have something to do with "Things I Like Right Now", which is the title of the post. So, nyar!
I have loved Tower Defense games since Starcraft's battle.net back in 1999/2000 when you could find delightful gems like "Tower Matrix D" inbetween all the "$$$$$FASTEST MAP EVER$$$$$" games. Since then I've played dozens of Tower Defense games and I <3 them all. Desktop Tower Defense is my longstanding favorite, but recently I discovered that Neopets has one called Biscuit Brigade and I immediately had to throw everything aside and master it.

Yup.
** Bang Shishigami + Falcon Punch:
** Walking aimlessly around my apartment while wearing a trenchcoat, fedora, and pocketwatch, and pretending I'm cool because of it
** Iron Man
** Did I mention my warlock? Yeah. I like my warlock.