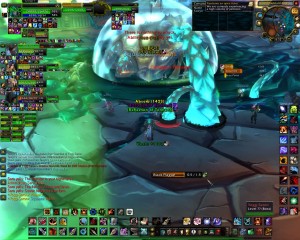 …but C'thun was the greatest Old God of all time! The greatest Old God of all time! Peace.
(Okay, so really I just wanted an excuse to make that joke. Sorry. D= )
So yeah, I have now officially seen every boss inside Ulduar, and killed them all except Yoggy*, whom we wiped on a couple times and then we started doing really well before suddenly everybody had to leave (myself included, sadly.)
I have to admit I've been feeling some compunctions about raiding and my aptitude at it lately; it feels like 50% of my boss kills and achievements happen with me facedown on the floor, and while there are times where my DPS shines, it also seems like as time goes on and I get into harder content and as my fellows acquire better and better gear, my position on Recount just seems to be slipping. It is probably partially because I cling to a less-than-ideal spec, but also I think because I just really stink at climbing the raid boss learning curve. I really don't want to be Donald from Dark Legacy Comics, but sometimes I worry I am turning into him. >.>
Hopefully it is just a phase and will pass as I get more practice. It just takes me a little bit of extra time to learn what stuff my pet shouldn't be hitting (Giant Tentacles and Freya Mario Party minigames, I'm looking at you), or what I should and should not be standing in (Vezax can DIAF). I may not be Ensidia or Death & Taxes material, but hopefully I will at least be halfway competent with a little more practice.
I am signed up for ToC25 and Ulduar25 this week, and Ulduar10 seems to be in the cards as well… holycrap, does this make me a real raider? It seems so surreal! x_x I hope my poor alts don't feel too neglected… D=
—
* And that one guy who I'm never going to see ever