I've been feeling a little silly lately since I feel like I don't have much to blog about. Not to say that I'm not enjoying myself in game, but really, I figure who really wants to hear about me ramble about dailies, alts, and the occasional heroic?
(Though if you do want to hear me ramble about that stuff for some reason, lemme know =P)
Fortunately I may have found something of interest to talk about: namely, yesterday I decided to splurge and I got myself a second WoW account and Recruit-a-Friend. The whole set up + upgrading to WotLK + transferring a "test alt" over there was kind of pricy, but I allow myself to splurge a little every six months or so to keep me from going completely nuts about watching 95% of my income go to bills and food, so this was my splurge this time. /nod
Also, this is the graphic Blizz displays as an Easter Egg on the "Upgrade-to-WotLK" page: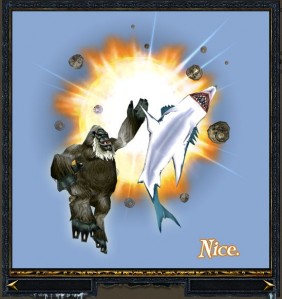 For great justice.
Anyways, I haven't had much of a chance to play around with my new second account yet, other than discovering I can't invite my alt back to my little personal Horde Guild (I think maybe you have to have had an account for a few days or something before it will let you join a guild?) I have also decided the way battle.net handles more than one WoW account is pretty nifty. You just log in with one overriding account and then you choose which account you want to log into before you get to the character selection screen.
But yeah, looking forward to messing around with it after work today. To tell the truth I have no major overriding plan for what I want to do with a second account. I have little interest in the zebra mount, and no real alt plans for Recruit-a-Friend (other than satiating my morbid curiosity about just how fast the 3x experience + herilooms + rested goes…) and seeing as what I'm most excited about is being able to do things like get myself into raid groups for solo'ing stuff, or being able to invite myself to alt guilds (things that I was able to utilize the boyfriend for until his account expired >.>) I'm actually not sure it will be worth the extra $15/month in the end. But we'll see how it goes– I'm pretty sure I'm creative enough to come up with something interesting– and if it isn't as fun as I was expecting, it'll be easy to just cancel that subscription and go back to one!
*nod*