Pet specs have been shaken up a bit with the advent of 3.1, so let's talk about how you will ideally spec your three types of pets. First up, pet specs for us Beast Masters (I'll cover you non-extra-talent-points folks in a later post!)
Ferocity:
You will probably want your Ferocity pet's talent tree to look like this. This scoops up everything you need to ensure your pet is the instrument of your vengeance in your average raid or heroic. Of course, there are adjustments you can make if you are solo'ing or leveling and would rather pick up, say, the stamina or healy-type talents. But honestly, Heart of the Phoenix never once worked for me anyway, so I didn't really have a problem with ditching it… >.>
Cunning: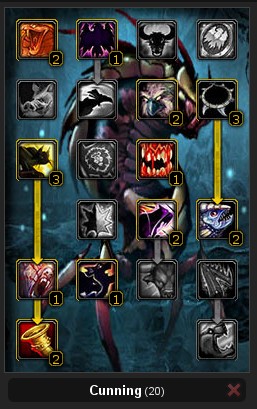 Your cunning pet is a very versatile creature who can be used in a variety of situations, and as such I consider his talent tree to be the most flexible in terms of talents that you do/don't want to take. I have found that this works very well from a solo'ing or questing standpoint. I know Cunning pets are often overlooked these days but honestly, equipped with things like Owl's Focus, Feeding Frenzy, Wolverine Bite and Roar of Recovery (now with a shorter cooldown), they are not to be underestimated. Try one out and see what you think.
Tenacity: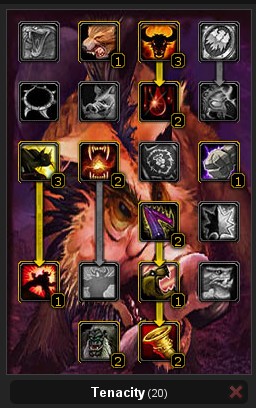 With Thunderstomp no longer Gorilla-exclusive and some great new tanky–talents, the Tenacity changes were really great. I have found this to be a very good pet-tanking build. You purposefully bypass some of the typical "DPS" talents in favor of making your pet able to take it, if not dish it out. There is some flexibility here if you're not a big fan of Last Stand and would rather put the Avoidance+Last Stand points somewhere else, although I've found it to be quite a lifesaver in multiple tricky situations, myself… I wouldn't go without it.
Welp, there ya have it. Toss me your questions and comments, and the "non-Beast Master edition" is coming up soon!