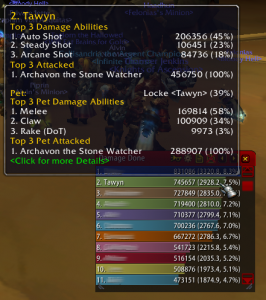 And yeah, I was edged out by an elemental shaman.  But seeing as he was in almost all epics, and I'm in mostly blues and a Shade of Aran cloak, I'm not too upset about my performance. =P
Oh and lemme post the first pull, 'cause it makes me giggle: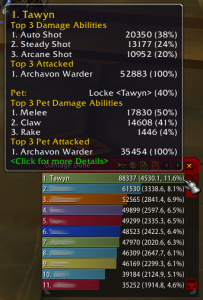 Now, the point of this post is not to claim astronomical DPS like the screenshots I've seen of epic'd out min/maxers doing 6000+ on Patchwerk. I've never gotten near that, and I don't think I ever will. So, I can't vouch for DPS changes in the Elitist Jerks croud, who are probably going to be more affected by scaling. But, I'd like to think I can vouch for the I-PuG-Raids-When-My-Schedule-Allows Crowd, and I don't think we have anything to worry about, at least not for the time being. More testing may need to be done, true, but I feel pretty reassured for now.
Beast Mastery is not dead, my friends. Carry on!