So I finally managed to get a draenei over level ten. Now you may be imagining that I have some female draenei hunter working her way through the draenei starter area, and that would be a good guess, but sadly, it is incorrect.
See, I made a male draenei. Shake them facial appendages!
And I ran him to Elwynn Forest at level two. Yes, I've still yet to do a single quest on Bloodmyst Isle, with any character ever.
Oh and…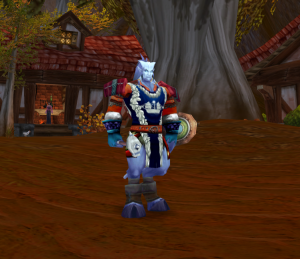 He's a paladin. Jinkies!
His name is Tanfarr, meaning he continues my tradition of giving my Silver Hand toons a name that begins with "Ta", and he is about a third of the way through level 18, which means he is now my highest level paladin ever– higher than that failed attempt of a blood elf paladin who I haven't played in like a year and a half.
Something surprising about this character: he's really fun to play. You gotta understand, no offense to you pallies, but I could never get into your class. Ever. I tried soooo many times. It was never fun for me. So what inspired me to start up once again, I have no idea, but something clicked this time and it's been a blast. Heck, I even semi-jokingly asked my guild's holy prot ret whatever-the-group-needs paladin if Blizz secretly made pallies fun in a recent patch, and his response was "As a matter of fact, yes they did."
I was also surprised to find out that I could actually get into a melee class, though to be fair, I've noticed that more than going up and hitting things in the face, I enjoy being the one getting hit in the face, and then laughing because I am simply soaking up all the damage. Hence the fact that all my talent points so far have been dumped into the Prot tree.
Not to mention, how many level 18s can receive /thanks for buffing a level 80? Blessing of Kings for the win.
Gosh I love alts. Raiding can wait until BM is buffed up again; I've got old content to love <3