I've had a lot of people requesting guides on pet specs. I am more than happy to share my thoughts on them with you guys! Pet specs are typically pretty straightforward because there are only so many talents that will increase DPS, etc. However, they are also pretty situational, depending on what you want out of your pets. If you are doing solo'ing and leveling with your kitty then you may opt to go for something different. And that is 100% okay. But here are Pike's recommendations:
Ferocity Pet: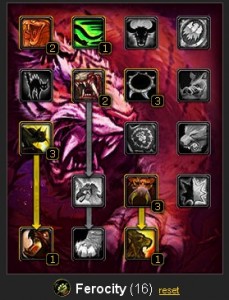 This basic 16-point build scoops up Cobra Reflexes, Dash, Bloodthirsty, Spider's Bite, and finally, Call of the Wild and Rabid. Basically all your essential DPS talents. However, you may also opt for something like this which replaces Avoidance/Rapid with Heart of the Phoenix (currently bugged, though) and Lick Your Wounds. Don't underestimate the power of Lick Your Wounds, I shied away from it for a while because I figured I used Mend Pet enough. Well maybe I'm just unlucky but my pets seem to have been taking massive amounts of damage in the heroics and raids I've done so far, and it's saved his furry butt several times. So I've been sold on it. Really that choice with what you do with those remaining points is up to you.
And once you've got the four extra points, you don't have to worry about choosing, and you can also nab Charge and then one point in Great Resistance– that is your filler point and I think it's the best place to put it, it gives your pet a nice boost on resistances. So you'd end up with this: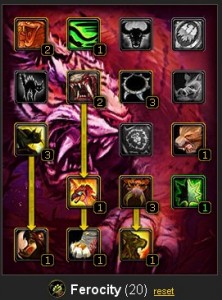 Cunning Pet:
These guys are a little tricky because there are many different routes you can take with them: PvP, utility, leveling, and though I've yet to try a heroic or raid with a Cunning Pet it's something I'll be looking into because I think they've got some nice DPS talents too. So I definitely don't see a talent path for these guys to be nearly as straight-forward. That said, this what I've done with Tux and Eltanin: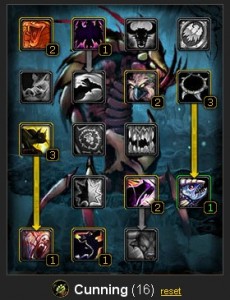 This is an all-purpose killing-stuff/utility build that also works decently for PvP (though I'd probably spec a bit differently for that). You pick up Cobra Reflexes, Dive, Owl's Focus and Spiked Collar as your must-haves. After that things get a little hazy, I typically opt for Avoidance, Cornered, and just one point in Feeding Frenzy so I can nab both Wolverine Bite and Roar of Recovery with 16 points. Roar of Recovery is super awesome by the way, it makes me wish I had a Cunning pet out when I'm not using one. I <3 my Cunning pets. *clings to them* Really, I think that bottom portion of the tree is pretty customizable for your own needs. You may want to switch out Wolverine Bite for that extra point in Feeding Frenzy. Or for Carrion Feeder so you don't have to carry food around. It's a very flexible build, really. Once you get the four extra talent points you can stop worrying about it and do this: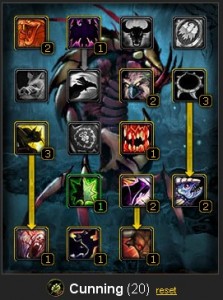 You can snatch up the extra Feeding Frenzy point, Carrion Feeder, Bullheaded (remember, this is a utility build more than a DPS build) , and then drop the final filler point in Great Resistance. Overall I have found this build to be very nice build for leveling/grinding and it's also pretty effective in the occasional PvP skirmish if you, say, play on a PvP server or do the world PvP events sometimes. I'd probably opt for slightly different, but similar, pet spec for dedicated PvP but this one certainly isn't bad.
Tenacity Pet:
There are a couple different ways to do Tenacity Pets and for me, what you want it to make your Tenacity Pet a pure tanking machine. That means you'll be skipping a lot of the DPS talents in favor of longevity ones. This would be my 16-point build: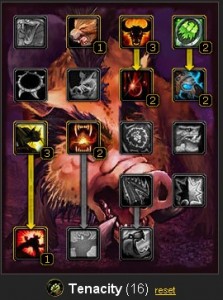 Charge, Great Stamina, and Natural Armor from the first tier. Blood of the Rhino (very important talent!! Makes your Mend Pet epic) and Pet Barding from the second. Guard Dog is your other "must-have" in this tree. After that you have a couple of options, myself I like Avoidance and Last Stand. Last Stand is just like the warrior move and it's gotten me through a few elite group quests and I <3 it very much. You do have to manually activate it, though, so make sure it's on your pet bar. Picking up the four extra talent points, I'd go for something like this:
You can pick up Grace of the Mantis as well as your two remaining last-tier talents, Roar of Sacrifice and Taunt. I have some problems getting Roar of Sacrifice to work well, but I think I probably just have to sit down and figure it out. Now as you can see, we skipped out on Cobra Reflexes and Spiked Collar, the two must-have DPS talents from the previous trees, in favor of pure survivability. I've tried doing difficult quests with both methods– a more DPS-spec'd tank, and a more never-gonna-die-spec'd tank– and I have had much more success with the latter. Remember, your Tenacity pet isn't there to DPS, he's there to be a meatshield on those tough group quests!
Well, you asked for it, so you got it: Pike's thoughts on pet-spec'ing. As I said, pet specs are oftentimes really very situational, but pet respecs are very cheap, so it works out.
I don't work today and most of my guild doesn't seem to have anything major planned either, so we were thinking about having going on a wild badge-fest heroics-a-thon. So I'm off to do the IRL stuff and then log on. As always, I love your comments and corrections!