First of all, I would like to offer my sincerest apologies for the site downtime on Friday night/Saturday morning. The server this site was hosted on was the victim of a Denial of Service attack so they took everything down and it took a little while for it to go back up. Hopefully I didn't scare too many of you with the site's sudden disappearance. =P
I'm back though, and here to talk pets. As much as I love my current pets– I went into this patch with five level 70 pets across my two "main" hunters– I was, a few nights back, sort of randomly feeling this urge to tame something new and different. I thought back to the pets I'd played on Beta… Rhino, Devilsaur, Gorilla… I wasn't feelin' it this time for any of them and the Rhino isn't even around yet.
So off I went to Petopia to comb through the new pets. Finally I settled on trying out the Wasp family.
Tawyn was who I was playing at the time so off I went to tame Blacksting. I played around with him for a while and did some dailies with him before coming to two conclusions: Firstly, even though I haven't seen many Wasp Hunters around at all, the ones that I did see had invariably tamed Blacksting as well, so I decided I wanted something a little more different, and secondly Tawyn is my hunter with the Exotic Pet talent so really, I should save her for trying out the Exotic Pets.
So the next day I hopped onto Lunapike and tamed a Marshlight Bleeder. I broke Lunapike's personal protocol here and named it something other than a character from my favorite book: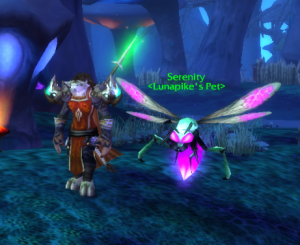 Honestly though, if you thought I was going to tame a firefly and NOT name it Serenity, you were sadly mistaken.
Over the course of the next couple of days I succeeded in getting Serenity from level 65 to level 70. This was accomplished almost entirely by grinding the ogres in Nagrand and the result was that I got a fabulous bonus prize right after the pet ding happened: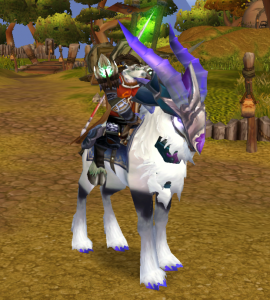 /flex
Anyways, now the pet. I gotta admit, from an aesthetics standpoint, I am hooked. It's kind of ironic because in real life, insectoids with large flappy wings have this tendency to… not sit right with me. Okay, let me rephrase that. A typical real life scenario would involve a moth flapping lazily past my face and me leaping on The Boy and screeching out something along the lines of "KILLITWITHFIRE". (Yes, that was a dramatization of an actual occurance.)
But I really like the wasps in game, the glowy firefly variety especially. There is something comforting about having something next to you that is emitting a warm glow and making a soft chattery noise and grooming itself cutely with its little legs. It's kind of relaxing, really. It's like questing with a nightlight. A deadly nightlight. (Maybe he really is the only bee in your bonnet?)
Gameplay wise, the wasp is a Ferocity pet (who thus dishes out plenty of damage) and puts a handy debuff on whatever you are attacking, decreasing its armor for 20 seconds. That meant that when I was fighting the ogres, I was constantly fighting them with a big fat 400 armor debuff on them, and it meant smooth sailing. And grinding.
Overall, I gotta say I am a fan. Serenity isn't going anywhere anytime soon and while he may not have some super-awesome exotic-pet move or anything, being able to toss around mini Faerie Fires like no tomorrow is far from a bad ability. Look into one if you want a solid Ferocity pet that is somewhat rare (as I said, I haven't seen too many Wasp Hunters around) and you appreciate the serene, glowy aesthetic of Zangarmarsh. If you are anything like me, you will quickly become attached to your little lightning bug.
Got a pet that you want me to review? I still have several open stable slots left so give me a shout out and I will see what I can do for ya.