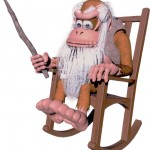 *Pike hobbles out with a cane*
Gather round, whippersnappers, Granny Pike's got a story… see… I bet you all don't remember the war! Yes, the Frostwolf-Stormpike war. Hey now, none o' this crying and "But I learned this in schoooool". Your teachers probably weren't there in the trenches like I was!
See, I was a part of this war effort quite often, and the brackets always ended in a good even number. 51-60, 61-70, and then in Wrath of the Lich King, 71-80. That's tradition, it's always how it's been done, dadgumit!
So then I retired from the wars and went off to fight dragons and the like instead. Now now, Granny Pike's not done tellin' her Alterac Valley story yet.
Today I decided to go back there: I have a couple of level 60s now, see, and I wanted to see how my beloved Nightfall Horde 51-60 bracket was faring. Not good, unfortunately. I can tell you the reason though, it starts with an "E" and ends with an "verybody rerolled Alliance Death Knights". But now I'm just ramblin'.
I get into this battle and I'm all ready and rarin' to go and these grasshoppers all start up with some nonsense about how "The end is near! The patch ruined my AV!" because level 60s are in their bracket. Now I may be old, but I know my AV, so I says to 'em, "What're you kids flapping your gums about, that's how it's always been!" But they didn't listen to me, or… perhaps they were already halfway to Tower Point because my wheelchair is Not a Very Fast Mount.
Regardless, I decided to leave Alterac Valley for the youngsters and consulted the Internet for an answer. It seems as though at some point between now and when I last played AV in the good ol' days, they had in fact changed the bracket to a top level of 59, and this latest patch was just now changing it back.
And you know what I say to that? I say GOOD! You don't go changin' around a classic with newfangled rules! That's just wrong!
*at this point Pike is waving her cane around frantically*
Ah, well, I'll let you young'uns go now. I have a lawn to chase kids off of. Tell ya what, come back tomorrow and I'll bake cookies. …if I can figure out how, anyway…
*Pike hobbles off, mumbling to herself*