As usual I have the best readers. I mention offhandedly in a post that I can't afford Cataclysm and the next thing I know I have enough money to cover it a few times over. So at this point, not only can I snag Cata and some WoW cards, but I can buy WoW time for my younger siblings, too, as their Christmas present. Awesome! <3
So the world went kablooey the other day, as I'm sure we're all aware. I haven't had much of a chance to survey all the damage yet but I did run around and snag a bunch of new pets in an effort to stave off my gnawing desire to roll and level a gnome priest as my way to see the world (I want to give it a few days until the starting areas are a little less congested).
But hey, Fox Mulder is already level 80!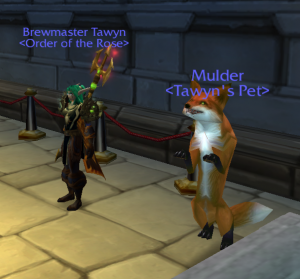 Now taking suggestions on what I should tame for a Scully.