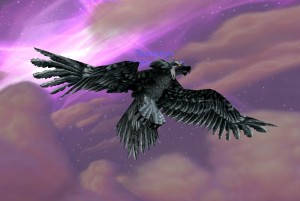 And it came to pass that Pike was no longer allowed to cry about druids flying all over the place and grabbing herbs while she had to keep dismounting and remounting. Because now, she can finally join in the fun. Bwahaha.
Yes, my druid is now level 68. It officially makes her "Northrend level", which is sort of intimidating, because Tawyn and Lunapike were both 70 when they headed in. And all dressed up in level 70 blues/purples. Oh, and they were both hunters, aka Solo Class Extraordinaire. Now I maintain that leveling a resto druid is easier than a lot of people say (HoTs + Bear Form anyone?) but it is slower and despite the heals, there are fewer tricks in your bag for getting out of sticky situations. Fortunately, seeing as according to my achievements I did a grand total of 25 non-instance-related quests in Outlands (an average of 2.5 quests per level… yes, that is really all I did), it means that in Northrend I might be able to get away with doing basically what I did in Outlands: instances, instances, instances, aaaaaand instances, and maybe a random Kara run if I get lucky (OHMAHGAH I WOULD LOVE THAT, you guys don't even know). But yeah, especially since I have some friends and guildies who have characters sitting around at level 70 or thereabouts and would love some heals… instances are in the cards, I think!
So yeah, that post wasn't hunter related. Sowwy. =( I have some Hunter Kindergarten stuff in the works. No, really!