I decided to go back through aaaallll my blog posts and see what I did this past year. Here's what happened, in a nutshell:
January 2009:
The remnants of Pike's old and exploded guild < Entelechy > coalesced into < Friend Ship > a few months prior and because it's a tiny baby guild we're mostly PuG'ing stuff. At this point I was in Naxx25 PuGs with Tawyn, topping the Patchwerk meters in blues with endless Steady Shot spam. Pike misses her shot weaving. She welcomes the impending Beast Master nerfs despite the fact that she never spec'd into BW/Readiness because she found it to be rather inane and cheesy.
Beast Mastery is nerfed hard; I march into VoA the next day and score second on Recount.
Still, I was feeling self-conscious, so I spent a few days plinking around with Survival and Marksmanship. Saw a Big Fat DPS Decrease with Survival and just plain didn't enjoy it. Marksmanship was more fun and I stuck with that for a few days before going back to Big Red BM, nerfed or not. At the end of the month I decided I missed my raptor, Wash, a pet which I'd had long ago and then released for various reasons, so I went out to re-tame him. He would be my companion for the rest of the year.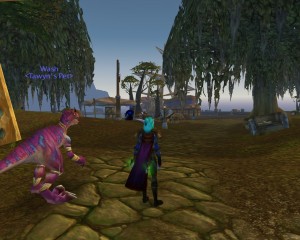 February 2009:
Pike rolls a paladin who quickly gets to level 20-something before she gets distracted again.
I'm still PuG'ing Naxx. I rant multiple times about dying on Heigan.
I'm also PuG'ing heroics, leading to a couple of fun times in LFG.
I make a "quilt" out of pictures of my pets that I had at the time across all most of my hunters. Looking at the picture now, it's rather oudated, but I still like it.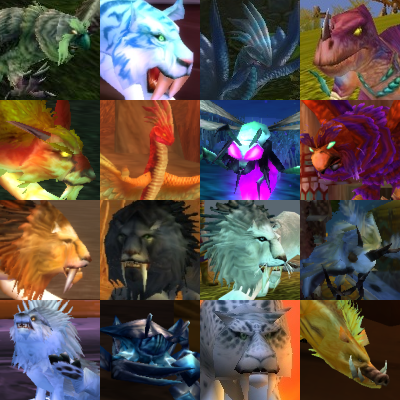 March 2009:
My little guild starts doing Naxx every Saturday afternoon. At that point I was working every Saturday afternoon. I won't deny I felt miserable being left out as they cleared it week after week while I struggled along in PuGs, but I tried to make the most of it. In one of those PuGs I survived Heigan for the first time ever in smashing fashion, and another led to what, out of all the blog posts I've ever written, is quite possibly my very favorite. In addition, I fell in with a guild called < Song of Chu > that was raiding on my days off and I did quite a few Naxx runs with them and even made a Hunter Guide Movie in one of their runs.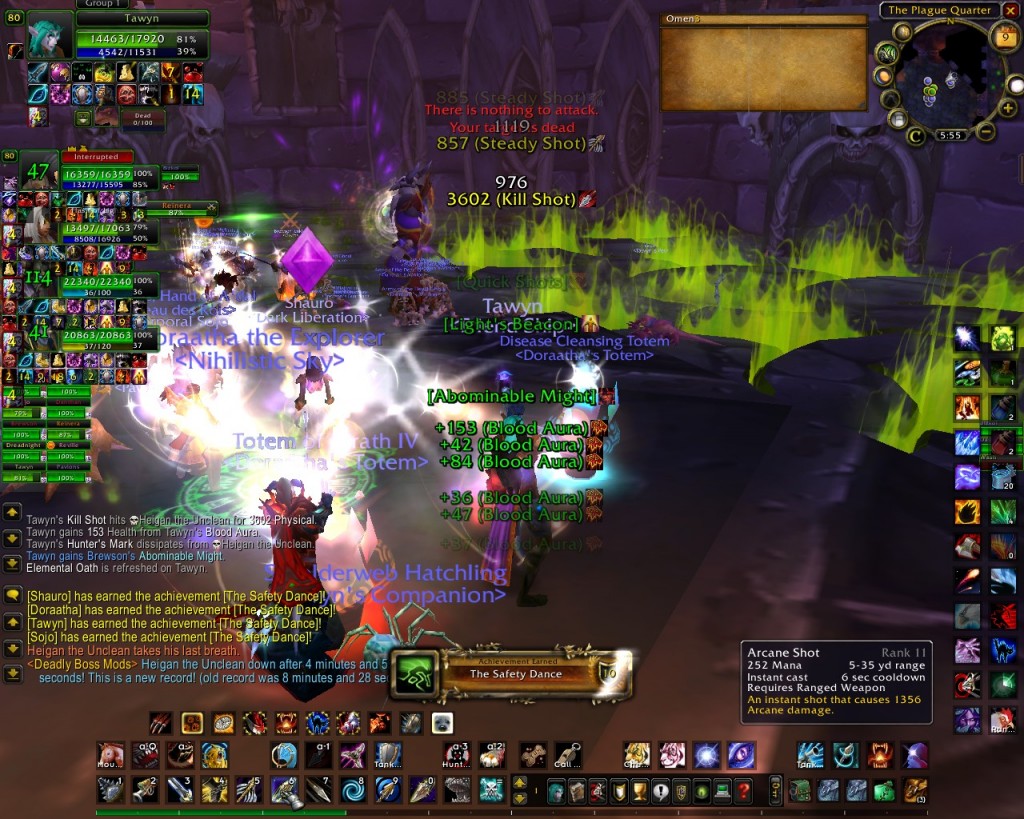 Eventually I requested a Saturday off from work specifically so I could raid with my guild and I finally cleared Naxx.
I still missed Karazhan, though. A couple of friends and I went back there for kicks. Then my druid ding'd 70 doing the Karazhan key questline.
April 2009:
I drew a picture that I'm still quite proud of.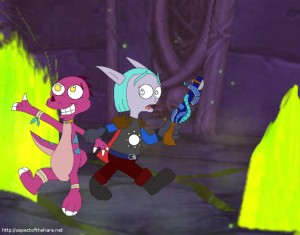 I started tinkering with Survival again, mostly because I was tired of having mana issues. The spec change didn't last long, though.
3.1 hits; Beast Mastery is semi-buffed. I'm still puttering around in Naxx PuGs.
I decided to see what all the hype was about and I tamed a wolf. I became quite attached to him, but he was no Big Pink Raptor.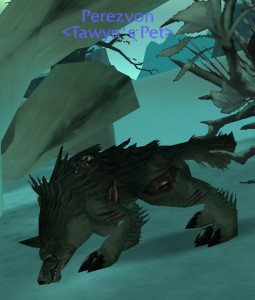 May 2009:
I walk around the world as a rabbit, just for kicks and giggles.
While the rest of the world is in Ulduar, Pike goes to Black Temple.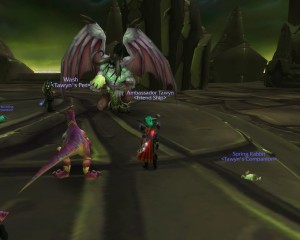 June 2009:
I write up a whole series on Doing Naxx As a Hunter.
My guild is slowly dissolving as friends go off to join raiding guilds and we opt to stick to a chat channel and AIM chatrooms to maintain ties. So for the first time in a long time, Tawyn becomes guildless.
Because all I'm doing at this point is leveling my druid and occasionally PuG'ing Naxx, I decided I needed something more interesting to write about so I start a Grand Spec Project where my aim was to really learn the other two hunter specs. My verdict was that I still royally sucked at Survival and I still didn't like it. Marksmanship again proved itself as being pretty darn fun, though, and became my official Alternate Spec.
The end of the month is pretty exciting: my druid hits the bit Eight-Oh, becoming my first non-hunter character ever to reach endgame, and I go on some solo'ing shenanigans with Tawyn.
I also play much with my druid's stealth in the name of epic Photo Ops.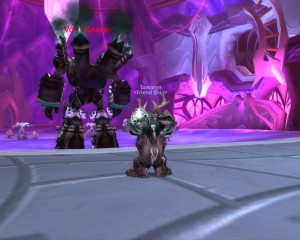 July 2009:
I decide it's time to start looking for a new guild but I don't actually do anything about it for a while. So, not much happens this entire month. I'm playing low-level Hordies and the like. I wrote some good posts, though.
I released my wolf so I could snag myself a turtle and attempt to solo Attumen in the name of a necklace which has never dropped. (Guys, I did it two days ago with a couple friends. IT STILL HASN'T DROPPED.)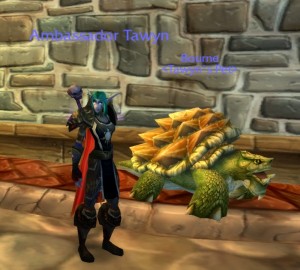 At the very end of the month I decided I really was tired of being guildless this time, went to the Silver Hand forums, found the first "Recruiting!" thread I could find and applied. The guild was called "Order of the Rose". Sounds nice enough right?

August 2009:
The month starts out on a high note when Order of the Rose chucked Tawyn a guild invite.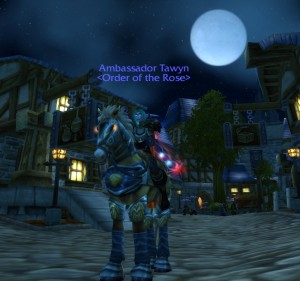 In addition, my druid heals all of Naxx. In a random PuG, no less.
ToC is released literally the next day and Naxx is forever obsoleted. I'm glad the Tree got to see it first.
My Hordie Hunter hits 80!
My new guild starts dragging me around to all sorts of places, so Tawyn finally gets a title she probably should have had a long time ago, and suddenly she has Ulduar epics too.
September 2009:
The blog gets defaced and Pike is not a happy camper.
Kael'thas goes down, now that I finally have a tenacity pet.
And I talk about why guns and mechanostriders > bows and Barbie's Princess Adventure kittycat mounts.
I rant about hunters who do not use their pet.
And I get a Super Cool Title of Win.
I'm playing my druid a lot. Whee!
Tawyn, uh… isn't feeling well.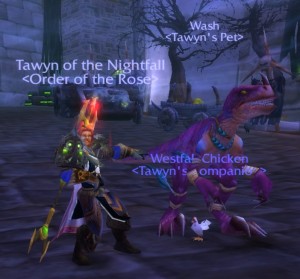 < Order of the Rose > takes on Anuby. After a few weeks of false starts, we triumph.
I make a new hunter alt and walk all around the world to tame a Northrend pet at level 10.
I also talk about chemistry. One of my favorite posts of the year, probably.
November 2009:
The blog is infested with some sort of bug and after a day or so of trying to track it down I got frustrated and re-did the entire site from scratch. Not a particularly good start to the month, but hey!
Most of this month I actually took off from WoW in the name of National Novel Writing Month, which I won. Said book has since been finished and edited, by the way, although I still want to add some things and tighten up the story. We can all blame Krizzlybear and the rest of the Twitterati for getting me excited about NaNo and inspiring me to do it. (<3 Krizz) In my absence, my guild nails A Tribute to Insanity on 10-man. My only regret is that I wasn't there to FRAPS it because from what I hear, it was epic. Much grats to them, though!
Also, WoW turns 5!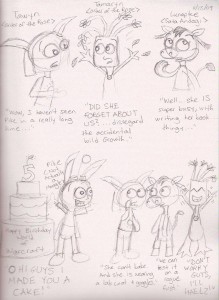 December 2009:
I talk about Alliance vs. Horde vs. Penguins. Another contender for "Favorite Blog Post of the Year".
And because I like hunters and druids, I get even more to Outlands-level.
Aaaand… that pretty much takes us to where we are now. I haven't stepped foot in ICC yet, but I'm no rush. I'm rather enjoying playing my BabyLock at the moment.
This has been a crazy year and it saw me take the grand leap from being a casual PuG'er to being a "raider", which was a first. Now, onward to 2010 and Cataclysm and all that fun stuff! /charge