Yep.  I've figured it out.  Why the Warcraft movie trailer bugs me a lil' bit.
And no, it's not because there's too much CGI.  On the contrary: I don't think there's enough!
Warcraft has always been very silly and cartoony to me– in a good way, mind you.  But the movie trailer is super serious and there are people in it.  Real people!  Not, like, cartoon people.  It's giving off a weird reverse-uncanny-valley effect to me.
I feel like the movie would have been more palatable to me had it been done Pixar-style.  Yes, it definitely would've been a lot more silly… and honestly it probably would've felt (and looked) a lot more like Warcraft to me.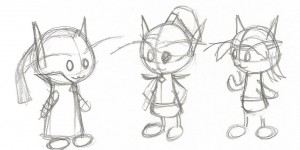 Anyways, I don't mean to be a debbie downer or anything.  I mean, overall the movie looks really great on a technical level.  Granted, we've got Mr. Krabs from SpongeBob SquarePants as Rend Blackhand, so now I'm not sure how seriously I can take that character, but YOU know…