Cataclysm is really shaping up to be exceeding my expectations. Just playing alts is keeping me more than occupied. I haven't felt this way since I started playing in '07. It's really great.
Both of my high-level hunters are now 81. One is in Hyjal and one is in Vash'jir. I'm keeping them fairly even level-wise and having a lot of fun with it. I did… Blackrock Caverns, I think it's called? Man. I'm still not sure if I hated or loved that dungeon. It's sort of a weird mix of both. I hated it because it took about two hours in my PuG group and we wiped more than I have wiped in months. I loved it because the boss mechanics and strats were actually interesting. One of them had beams that you're supposed to stand in. "Oh, like Netherspite in Kara?" I asked. "Yep," was the reply. It made me happy. Someone else who had done Kara. Because everyone should do Kara. <3 Speaking of Kara, did you know that Attumen is solo'able by a level 80 resto druid, if you have twenty minutes and a lot of patience?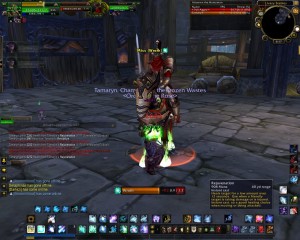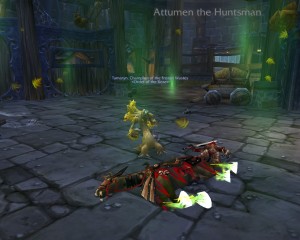 Now you know!
You can boomkin through the trash with ease, but when you're tanking both Attumen and Midnight separately at the beginning of the encounter you just end up taking too much damage. Never fear, Tree Tank is here! Waiting around for Innervates was the most time-consuming part.
As always, he failed to drop my necklace, which I will never ever see.
Afterward I switched back to boomkin, charged into that room full of trash and popped Barkskin, Starfall, and Hurricane, and died in a beautiful blaze of glory.
…and speaking of boomkins…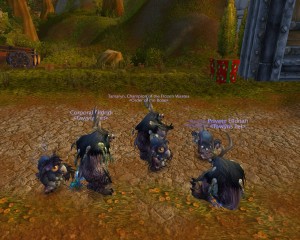 A few months back when I mentioned that I didn't think I would have money for Cataclysm, you guys really responded. So much, in fact, that not only could I afford Cataclysm, but I could also afford to buy WoW cards for my younger sisters (their accounts were long since canceled due to lack of funds) and also get them Wrath of the Lich King (they were still back in BC-land) and Moonkin Hatchlings. They're really excited to be back, and the first thing we did was organize a Moonkin Family Reunion, complete with pet biscuits.
The second thing we did was get onto the boat to go to Borean Tundra. Or, we would have, if the boat didn't glitch and strand a poor level 70, without Cataclysm, in Vashj'ir. Yeah I can't put my finger on that one either…
Fortunately I went and rescued her. She promptly set her hearthstone to that boat as a joke, which made me panic until she pointed out that she can teleport to Moonglade. Ohhh yeah, I forgot druids could do that.
tl;dr: Alts are fun, dungeons are fun-strating (my new portmanteau of fun and frustrating), Karazhan is still the best raid and boats are glitchy.