I rolled a Worgen, and I liked it.
You have to understand, I have been pro-Goblin since the Goblin and Worgen mask rumors showed up on MMO-Champion a couple years back. Worgens in Goldshire, I loudly proclaimed, would be the reason I perma-switched to Horde. Until I remembered that there were no gnomes Horde-side, at which point I reminded myself that goblins would be the new gnomes.
So this whole time I've been stoked for Goblins, and when I got Cataclysm the other day the very first thing I did… okay, the very first thing I did was check to see if you could fly around in Stormwind now, and you can. The very SECOND thing I did was roll a Goblin. Hunter, duh. Named Ratchets. She's pretty fantastic. The goblin starter quests are one of the greatest things ever. (Those of you who have done them, back me up here!)
But then I thought, "You know… let's try one of them newfangled Worgen things. You know, just for kicks. Just to look around. I'll probably log out in a couple of levels."
Well, then, you see, this happened (click for larger):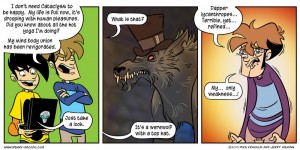 Penny Arcade is spot on.
I now have a Worgen Mage who is level 14. I got there all in one sitting. I NEVER LEVEL TO 14 ALL IN ONE SITTING EVER. Apparently I do now? And I would have gone farther, too, if I didn't have to go to bed. I think it's the top hat quest reward. It has magical experience-granting powers.
Although do allow me to express my disappointment that you cannot equip both the top hat and engineering goggles simultaneously. I mean, really.