Have at ye! *wields cold medicine*
This is what I did today, in spite of having said persistent cough: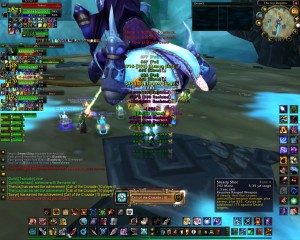 I got a ring out of it, which means for the first time in my entire WoW career, I am wearing all purples. Took long enough, dontcha think? =P I mean, I've only been playing the game for, I dunno, two and a half years at this point…
The fights were, for the most part, fun and interesting. I look forward to writing up a guide once I've ran through this joint a few more times.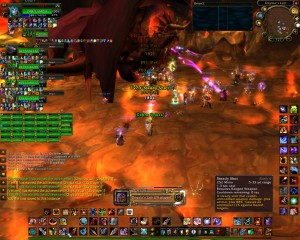 Ah Onyxia, the classic. I'm kind of disappointed I never got around to solo'ing her before the change, but at least I do have the Sinew in my bank so I can theoretically still do the Rhok quest (if I can ever get into a Molten Core group without five or six other hunters who also want the Leaf). I am also glad to say that four of my best friends and myself took her on at 70. It was glorious. I made it a movie that can't go on YouTube because it's like thirty seconds too long.
Anyways, here's a hint for the current Onyxia: if your computer can't handle lots of things onscreen at one time, do not look at the whelps when they are being AoE'd. Trust me.
So a pretty darn nice polearm dropped. I won the roll, but then traded it to our bear tank afterward, because I know she really wanted it. Or at least the weapon that it turns into.
But then we found out something interesting.
See, when you turn it from the ranged-oriented weapon into the melee-oriented weapon, you keep the original weapon. So you basically have two polearms.
And that first one can be traded within that 2-hour period.
So, she kept the copy, and I got the original back.
I have no idea if this is intended or not and I'm half expecting Blizz to take it away during the next wave of rolling restarts, but until then, we are Polearm Buddies: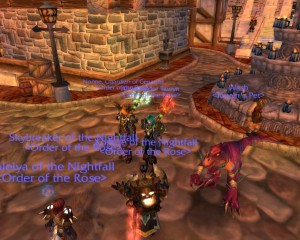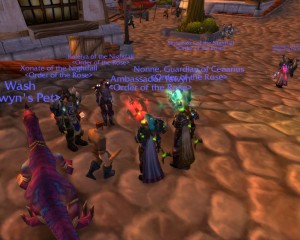 So yeah. This week shall be known from here on out as "Let's see how many raids Pike can stuff herself into and still maintain her sanity."
In other news, I'm come up with some super interesting Beast Mastery and pet related math on the online spreadsheet as of this latest patch. I'll go into more detail on a later post, though, because the NyQuil is gonna knock me out in T minus ten… nine… eight… …