Just a few hunterrific things you may or may not have noticed with this latest patch…
1.) Bestial Wrath Graphics Change:
This was pointed out to me by a guildie who wanted to know if my Bestial Wrath went "RAWR" anymore, because his didn't. I tried it and immediately assumed it did, however, this was because my pet was by my side. See, now your pet will still go RAWR, but the hunter will do a Swirly Ball– a la Old Rogue Detect Traps– and make a cleansing noise. This falls in line with Blizzard's intention of turning The Beast Within into a "defensive ability" in PvP. However, I still firmly consider it to be 100% offensive in PvE, and I sorta miss my personal RAWR! in all its ragey glory.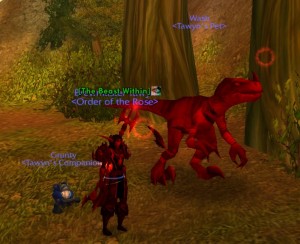 At least Swirly Ball is sparkly.
Pike's Final Grade: B-
2.) Feed Pet Graphics Change
You now visibly toss your pet a snack, and your pet makes a cute noise and jumps up and catches it! It's the cutest thing ever and I love it to bits. Too bad thanks to Bloodthirsty and the Mend Pet glyph, I hardly ever feed my pet anymore…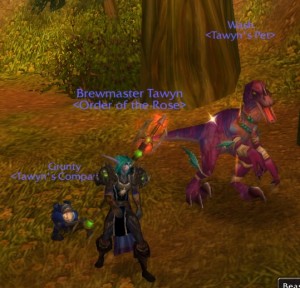 Pike's Grade: A+
3.) Pink Elekks are Not Tamable
Self-explanatory.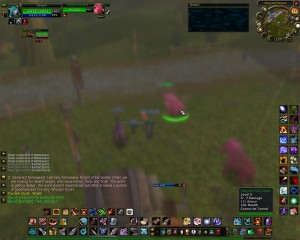 Pike's Final Grade: F. But at least we get the minipet, right?