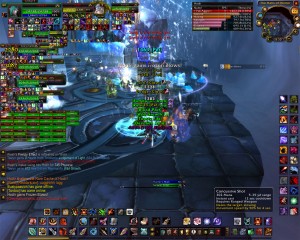 Guys.
THIS FIGHT…
Okay.
This guy is named Hodir. Apparently he's the dad of all those guys you spent millions of years grinding rep for.
THIS IS THE CRAZIEST FIGHT EVER.
There's like…
You know the dragon boss in Nexus and how she does the frost debuff and you have to keep moving?
There's that. AND there's stuff you can't stand in. AND there's iceblocks you have to shoot. AND there's circles on the ground. AND you have to go stand outside the circles and then run inside them for some reason which I have yet to ascertain, but it is apparently important. AND there's this… crit buff thing like on Loatheb.
And guys…
I DIDN'T DIE.
I don't think you understand the gravity of that situation. See, here's a secret. When it comes to raiding, I am not a fast learner, and I really don't pretend to be. Count up the number of times I biffed it on Sarth, Heigan, and Four Horsemen before finally nailing them and it is a very large number. Now that I am in Ulduar and we can throw Cat Chick and Iron Council* into the mix, that number becomes even larger. My strength is that once I do nail the fights, I pretty much never die on them again, but it takes a little while to reach that point… and the fact that my graphics like to conveniently forget to show various important things doesn't help to speed the process along.
So on this guy there were a couple of wipes and then we downed him AND I WAS STILL ALIVE.
Miracle, really.
Also I got bracers and a chestpiece. Which totally makes up for my failure rolls on this crazy epic staff and crazy epic bow (I am still using Nesingwary…) >.>
—
* Somehow, I don't die on Giant Popup Book Guy Kologarn, which astonishes me because that is totally the type of fight I would die on.