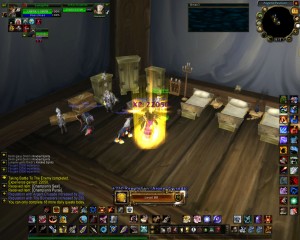 No? Two level 80 Beast Master hunters doesn't make me an addict yet?
Don't worry, I'm working on a third…
Edit: Got to admit, I dearly love my taurengirl. I love Tawyn, too, but she is a character whereas Lunapike is more, well… me. Honestly, if it weren't for most of my friends being Ally-side, I'd seriously considering switching mains to Horde. Tauren for life.
Edited Edit: Don't forget, I have a level 80 resto druid as well who I leveled as resto. So, I'm not *that* sheltered, right? I've branched out *hears groans in the audience* right?